While some construction jobs are at management levels (construction supervisor and manager), others are at entry-level (construction helpers and laborers, trades people, etc.).
When drafting a construction resume, you will need to tailor the resume to suit the specific job description.
In this article, I will share a lot of tips for crafting an impressive resume for a construction position.
So, let's get started.
Tips for Crafting a Construction Resume
Here are few tips to guide you when writing your construction resume. They are:
Ensure to include all relevant work experiences you have gained throughout your career
Ensure to incorporate your work experience in the Work History section of your resume; this may include apprenticeships and other training experiences that you possess
The Education section should include all your certifications, degrees, licenses, etc
If you don't have any work experience, highlight all your relevant skills and competencies
Always include phrases that describe your abilities, phrases like: fast learner, pays attention to details, etc.
If there are other skills mentioned in the job advert that you have, e.g Microsoft Office Suite, be sure to include them on your resume too
Pro Tip: Use keywords in your resume.
Further Reading: Examples of bad resumes in 2022
For instance, the job listing for a general construction laborer might require someone with work experience in "operating heavy equipment".
If you have relevant work experience in that area, then you should include that phrase in your resume.
Keywords are very important in your resume because employers use automated applicant tracking systems (ATS) that are programmed to give priority to resumes that integrate certain keywords.
If you take the time to match your resume with the job description, it will increase your chances of landing an interview and possibly a job too.
Keywords for Construction Managers & Supervisors
Construction management
Project management
Inspection
Exertions relations
Quality control
Scheduling
Supervising
Construction and location supervision
Blueprints and reporting
Time management
Punch lists and contracting
Estimating and material costing
Invoicing and renovations
OSHA and hazardous materials
HAZMAT and building codes
Electrical codes &environmental codes



Keywords for Construction Helpers
Bricklaying and carpentry
Cement mixing and concrete mixing
Plumbing and drywall installation
Electrical wiring and HVAC
Refrigeration and sheet metal work
Ironwork and masonry
Metal lathing and painting
Pipe fitting and roofing
Surveying, carpeting & trim detailing



Keywords for General Construction Laborers
Heavy lifting
Heavy equipment operation
Measuring and safety regulations
Hammer skills and power tools
Demolition and truck driving

Pro Tip: Don't forget to include numbers to show your value
The next thing to consider while writing your resume is structure. There are quite a number of different construction resume examples and formats that you can choose from, depending on your work experience.
Most people write a traditional chronological resume that lists their work experience in order that showcases their most recent experience at the top.
A purposeful resume highlights your capabilities and abilities.
It is the best choice when you have limited work experience or have gaps in your employment.
You can also write a professional resume that's a mixture of a chronological and functional resume type.
Whatever format works for you, add separate sections to it, including an accomplishment section, a skill section, profile or a resume summary of qualifications at the top of your resume.
Check out the construction laborer resume sample below to get a sense of how to organize your construction resume and what information to include. 
Construction Resume Template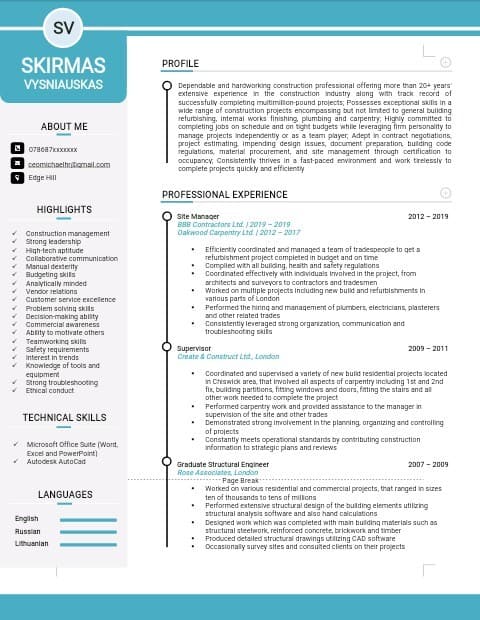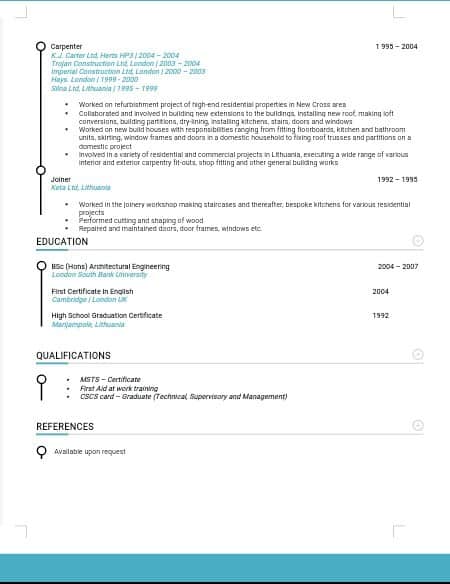 The resume above is an example of a construction worker resume though, we must confess that there are several construction resumes out there with different designs, the resume above has gotten a lot of jobs for our customers and so, we advice you to stick with it. Check out what our customers have to say about our services.
Note: The construction resume sample above is different from a construction cover letter. For further reading, check out this article on the differences between a cover letter vs resume.
The construction resume skills section should include technical skills such as: Microsoft office suite (Word, Excel and Powerpoint), Autodesk Autocad.
From the construction resume template above, you can clearly see the construction skills mentioned on how it is necessary to include software programs that are often used in the construction and engineering career fields.
These skills are highlighted in order to stand out before employers who are looking for workers knowledgeable in the latest industry technologies.
Endeavor to tailor your resume to fit your experience and the job you are applying for and always proofread your resume after writing.
You can chat with a professional resume writer here.
Employers want construction workers with great attention to detail. Therefore, it is important that you avoid any spelling or grammatical mistakes, which will make your resume look sloppy.
Jobs: Part time construction jobs and construction laborer jobs
Entry Level Construction Resume
When writing your entry-level construction laborer resume, focus on education, skills and knowledge.
Specific safety knowledge or internship experiences are great resume builders to include in your resume.
You should include your work experience and all relevant skills, but they should come after the education section of your resume.
Observe the following rules while writing your entry-level construction resume:
Do not start with the professional experience section
Always start with your most recent educational experience since that's likely your most recent relevant experience
Always remember to include a career profile or summary
Always write a career profile that highlights your academic knowledge, personal skills, and degrees gained
Always include previous work history, whether part-time or an internship
You should also include work experiences, even if it was just during the summer, which required laborer skills; that will be appreciated by prospective employers
Mention your educational experiences first, followed by your professional experiences, this include part-time work and internships
Do not disregard your previous work experiences, even if it's not full-time
Tip: Many entry-level construction roles are gained through apprenticeships, internships, and part-time jobs, so make sure to include these experiences to make up for your lack of professional experience.
How to write an Entry-Level Construction Resume
When looking for entry-level construction jobs, there are three particularly strong points to include on your resume. They are:
Teamwork
When writing an entry-level construction resume, always emphasize your ability to work in a team.
Also, include any previous job responsibilities that had you cooperating with other staff. It shows your prospective employers that you can work well in a team and produce positive results.
Communication
Working on a construction site can be dangerous and communication is key to avoiding on-the-job accidents or mistakes.
Those in charge of hiring construction workers need to know that they can rely on you to communicate effectively with others to avoid occupational hazards.
When writing your entry-level construction resume, don't forget to include proof of your communication skills.
For example, past work experiences where you resolved a dispute with a client or a time when you developed a plan or course of action and relayed that information to a fellow worker that benefited the organization.
Education
Having the relevant certificates or education can make all the difference when applying for an entry-level construction job.
Be sure to include any construction-related educational knowledge that you may have acquired in the past.
Jobs: Entry level construction management jobs
Conclusion
Getting a job as a construction worker could be easy or hard. The probabilities of landing the job hugely depend on your resume and how well it is presented.
If you are writing the resume yourself, just make sure to proofread it several times and also, feel free to send us a copy to assist you in reviewing and making HR standard recommendations. It is absolutely FREE!
Have issues writing your construction Resume/CV? Let us help you write a professional construction resume that will land you the job you deserve. Click here to get started.
Looking for some good resume examples or some awesome career advice? Check here.
Recommended Articles:
Sales associate resume
Bartender resume examples