Your weight is pulled on construction job sites to ensure a fast work delivery, you've mastered your way around equipment and machines, unfortunately your potential employers don't seem to know these.
Impress them using our tailored construction resume example.
This article would provide expert writing recommendation for your construction resume. CEOMichaelHR certified resume writers takes the guesswork out of resume writing by summing up and showing off your construction skills and experience.
You can use the construction resume example below as reference to customize yours to match your own skills, training and experience in the construction field.
We understand how hard it can be applying to over 50 jobs, and yet no call back. There must be a problem; a poorly-written resume.
But that's an easy fix! All you need is writing in the right format and ensuring it is applicant tracking system (ATS) compliant.

This article highlights:
An outstanding construction resume sample proven to land interviews 3x faster!
Tips and examples on how to put skills and achievements on a construction resume.
How to craft a good construction job description for resumes.
How to write a resume for construction jobs that quickly land interviews.
How to describe your experience on a construction worker resume to get any job you want.

Check out the construction worker resume sample below to get a sense of how to organize your construction resume and what information to include.
You might also like: The Predictive Index Test (All You Need to Know)

Construction Resume Template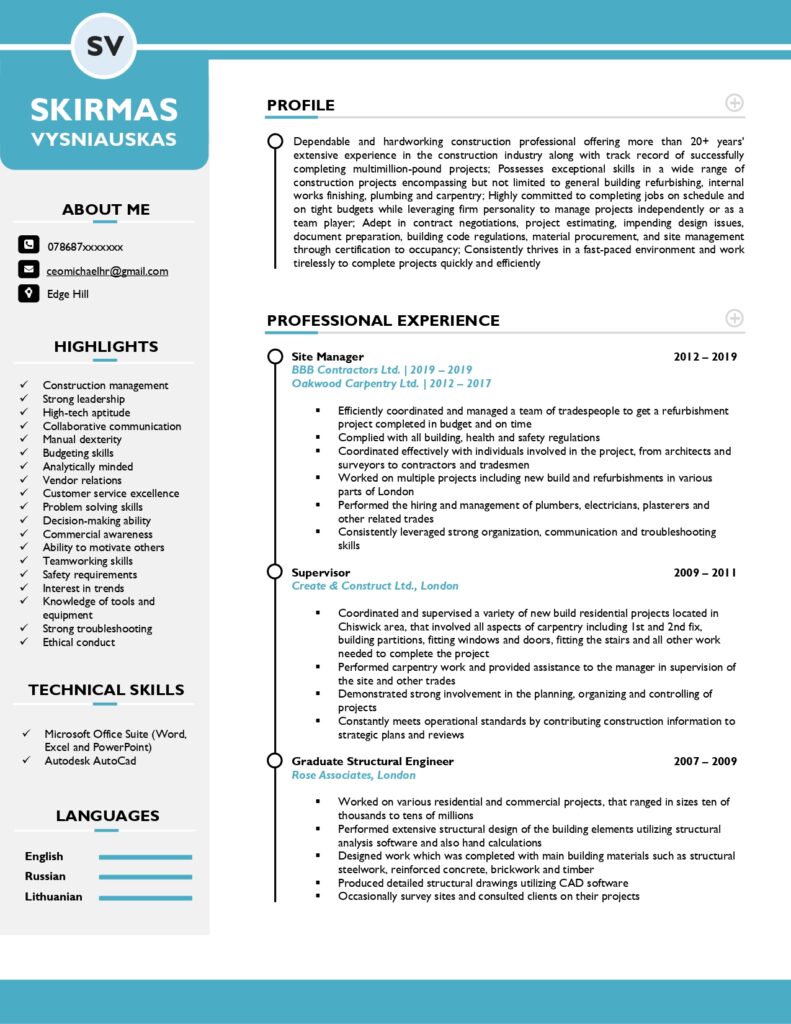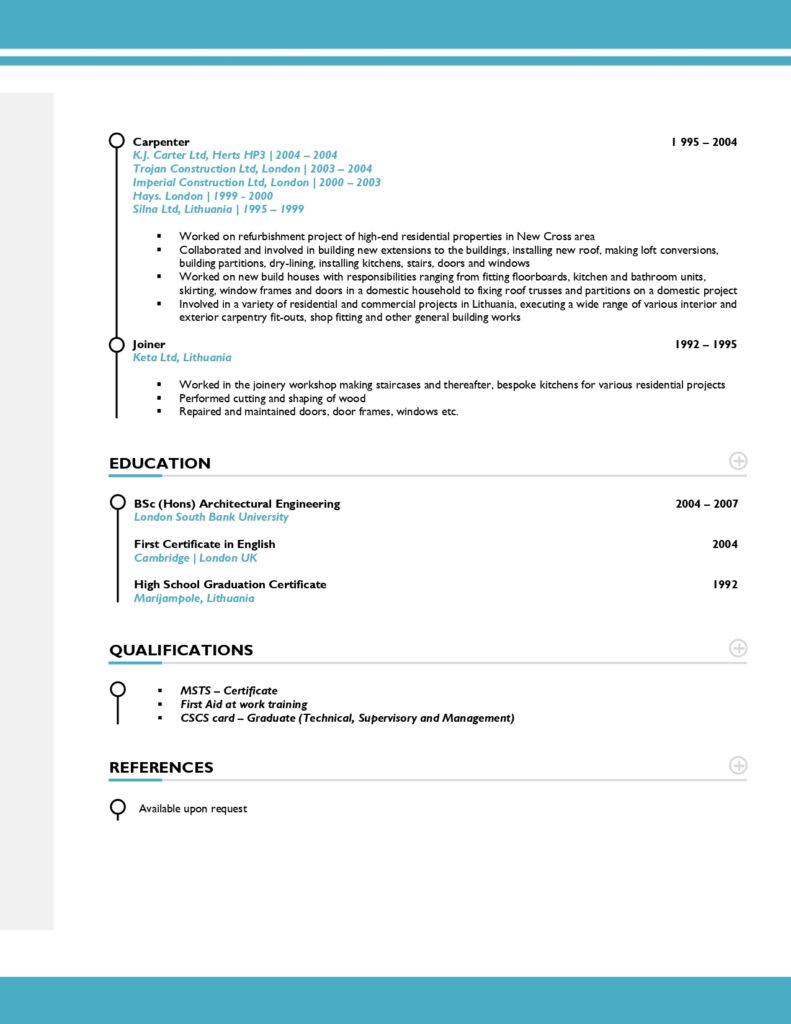 Hack your way through ATS software and create a job-winning resume with the help of our CEOMichaelHR certified resume specialists!


Construction Resume Sample You Can Adjust and Use


SKIRMAS VYSNIAUSKAS

Personal Info
078687xxxxxxx
ceomichaelhr@gmail.com
Edge Hill

Summary
Dependable and hardworking construction professional offering more than 20+ years' extensive experience in the construction industry along with track record of successfully completing multimillion-pound projects; Possesses exceptional skills in a wide range of construction projects encompassing but not limited to general building refurbishing, internal works finishing, plumbing and carpentry; Highly committed to completing jobs on schedule and on tight budgets while leveraging firm personality to manage projects independently or as a team player

Experience

Site Manager | 2012 – 2019
BBB Contractors Ltd. | 2019 – 2019
Oakwood Carpentry Ltd. | 2012 – 2017

> Efficiently coordinated and managed a team of tradespeople to get a refurbishment project completed in budget and on time

> Complied with all building, health and safety regulations

> Coordinated effectively with individuals involved in the project, from architects and surveyors to contractors and tradesmen

> Worked on multiple projects including new build and refurbishments in various parts of London

> Performed the hiring and management of plumbers, electricians, plasterers and other related trades

> Consistently leveraged strong organization, communication and troubleshooting skills


Supervisor | 2009 – 2011
Create & Construct Ltd., London

> Coordinated and supervised a variety of new build residential projects located in Chiswick area, that involved all aspects of carpentry including 1st and 2nd fix, building partitions, fitting windows and doors, fitting the stairs and all other work needed to complete the project

> Performed carpentry work and provided assistance to the manager in supervision of the site and other trades

> Demonstrated strong involvement in the planning, organizing and controlling of projects

> Constantly meets operational standards by contributing construction information to strategic plans and reviews


Graduate Structural Engineer | 2007 – 2009
Rose Associates, London

> Worked on various residential and commercial projects, that ranged in sizes ten of thousands to tens of millions

> Performed extensive structural design of the building elements utilizing structural analysis software and also hand calculations

> Designed work which was completed with main building materials such as structural steelwork, reinforced concrete, brickwork and timber

> Produced detailed structural drawings utilizing CAD software

> Occasionally survey sites and consulted clients on their projects


Education

BSc (Hons) Architectural Engineering | 2004 – 2007
London South Bank University

First Certificate in English | 2004
Cambridge | London UK

High School Graduation Certificate | 1992
Marijampole, Lithuania


Qualification

> MSTS – Certificate

> First Aid at work training

> CSCS card – Graduate (Technical, Supervisory and Management)


Highlights

> Construction management

> Strong leadership

> High-tech aptitude

> Collaborative communication

> Manual dexterity

> Budgeting skills

> Problem solving skills

> Commercial awareness

> Teamworking skills

> Safety requirements


Technical skills

> Microsoft Office Suite (Word, Excel and PowerPoint)

> Autodesk AutoCad


Languages

> English

> Russian

> Lithuanian


References

Available upon request


Construction Resume Writing Tips

1. Choose the Right Construction Resume Format
It should interest you to know that the fastest way to turn-off potential recruiters is picking up the wrong format for your construction worker resume.
Your best qualities will be hidden like a backhoe when you format your construction resume in the wrong format.
What is best to do instead? Get your resume noticed by choosing the right format that furnishes quickly your best qualities.
Consider the reverse-chronological format. This format allows you to showcase your last job first, with achievement-based bullet points that draws the recruiters' attention.
Ensure to use clear, legible fonts, big headings, and white space in between to make your words shine.
Very importantly, your general construction worker resume should be saved in PDF to retain its original form while submitting online to hiring managers except stated otherwise by the job description.
There's absolutely nothing wrong with construction resume templates for Microsoft Word. While this is known, PDFs don't scramble in transit like MS word resumes do.
Always check the job offer to ensure PDFs aren't banned.

Tips for choosing the right construction resume format:
Use the reverse-chronological resume format.
Select a single resume font like Georgia or Arial, 10–12pt.
Make 1-inch margins and add white spaces.
Use a 1-page resume length for construction jobs.
Create these resume sections: Header, Summary, Experience, Education, Skills, and "other."

2. Furnish a Construction Resume Summary or Objective
Can I tell you a little secrete?
Do you know hiring managers spends an average of six seconds perusing your resume to get that first initial impression?
Don't screw your chances by furnishing a poor construction resume summary.
Great news! This average perusing time can be stretched out by writing a good construction worker resume summary or resume objective.
A great construction resume summary highlights how perfect you're for the job by citing your key experiences and skills relevant to the job. This approach can be used if you've got a lot of field experience.
On the flipside, a construction resume objective shows your goal and passion. This approach works best for entry level construction laborers. You're sure to stick out like a gold coin in a mound of dirt if done right.
Note that recruiters won't spend much time with your construction worker resume, therefore your best bet is to put all your advantages in the fist thing they see- your professional summary or objective.
You might like: How to Get More Results with a C.A.R. Resume

Requirements for a construction resume summary:
A strong adjective to begin with
The position title: "construction worker"
Years of industry experience
Your value offering
Outstanding 1–2 field achievements
A few industry skills from the job description

Resume summary: two construction worker resume examples

RIGHT
Dependable and hardworking construction professional offering more than 20+ years' extensive experience in the construction industry along with track record of successfully completing multimillion-pound projects; Delivered 98% on-time completion of jobs at Julius Berger and slashed safety incidents by 90% per year through implementing a BBS Safety Program; Highly committed to completing jobs on schedule and on tight budgets while leveraging firm personality to manage projects independently or as a team player.


WRONG

Hard-working construction worker, skilled in power tool and hand tool use. Can drive a Skid Steer and a bulldozer. Follows all OSHA construction site safety requirements and understands proper PPE use. An efficient, fast worker and a team player.

The first construction resume summary example would definitely "WOW" a potential recruiter as it bolts onto the job and has the company's name, and proof of the construction skills they need.
However, the second construction resume example blends into the rest like feathered spackle on a sheetrock wall.
You may wonder, what about an entry-level construction resume for an applicant who has never had a construction job before, and don't have experience?

Resume objective: two construction worker resume objective
RIGHT

Adept construction worker seeking to meet building project goals at Julius Berger Construction. Equipped with proven record of handling regular construction as maintenance specialist in a 100,000 sq ft manufacturing facility. Operated Skid Steer 15 hours per month, and highly skilled in hand and power tool use.

WRONG

Physically fit laborer seeking construction job. While I have no direct construction job experience yet, I'm confident to train on the job.

It is of no doubt that the first general construction resume objective stands out! However, you may want to ask… where did all that experience come from? Isn't this an entry-level resume summary for a construction worker?
The experiences came from construction duties in non-construction fields and a few days of temp work.
Pro Tip:

Ensure to furnish your 1-2 most impressive accomplishments in your construction worker resume objective or resume summary. They're what attracts the hiring manager- getting them to read the rest.


3. Tailor an Outstanding Skills and Experience Section From the Construction Job Description
Imagine how amazing it is to get the hiring manager's recommendation on your resume stating these magic words; "Let's hire him."
Getting the hiring managers to say these words is simple! Show them you're a perfect match like tongue-in-groove.
This doesn't happen by accident as you'll need to showcase the right bits of your experience.
You can get your way around this more efficiently by selecting the right skills from the job advertisement, then highlighting these skills with evidence of execution on your resume experience section.
While the hiring manager may not really care about experience in a construction resume for entry-level jobs, showing your experience as an entry-level professional can be the thing that gets you hired as experience is a VIP ticket.
Describe your construction resume experience and skills the right way by looking at these two professional construction manager resume samples.
You might like: How to Write a Resume with No Work Experience (Best Guide)

Professional experience: construction manager resume examples
RIGHT

Construction Manager
Julius Berger | 2019 – 2022

> Supervised a plumbing capital improvement project with $1.8 million dollar CapEx budget

> Worked directly with local architect & engineering firms to obtain proper permits from DCRA

> Scheduled Plumbing & Building inspections as job progresses

> Coordinated with contracted Plumbers & General Contractors to schedule plumbing upgrades in a 95%+ occupied apartment complex (110 units) in NW Washington DC.

> Delegated contractors and on-site staff in diverse and sometimes unfavorable work conditions by making critical decisions when needed to avoid project setbacks

> Provided Weekly & Monthly updates to owners and investors with detailed progress reports as well as before and after pictures of individual apartments

WRONG

Construction Manager
Northern Brothers Construction | 2016 – 2018

> Worked as Construction Manager

> Supervised and coordinated work on all projects

> Created work schedules

> Kept laborers working safely


Without stressing this overboard, in the job market If you show a generic experience on your construction resume, you'll get a generic treatment.
However, showing off your key specific experiences will draw the eye like a safety barrier.
As you'll notice, the first construction manager resume experience example doesn't just say, "I did ABC." It complimented the experience with concrete proof that's reinforced with steel.
Now, let's explore what resume skills work best on a construction resume? Below is a list of soft and hard skills.

Construction Resume Skills
Hard Skills
Soft Skills
OSHA Compliance
Framing
Power Tools and Hand Tools
Concrete Work
Flooring
Equipment Operation
Managing Worksites
Record Keeping
Carpentry
Teamwork
Communication
Organization
Efficiency
Problem Solving
Attention to Detail
Physically Fit
Interpersonal Skills
Prioritization
Pro Tip:
Convince the hiring manager you've used those skills you listed by emphasizing on the numbers in your resume for construction jobs




Entry level experience: construction manager resume examples
Do you know you really don't need professional work experience to work in the construction industry?
However, getting it will make you gun for better positions in the construction field. The truth is everyone has an experience. How did we come to this conclusion?
Firstly, take a critical look at your past non-construction jobs and ask yourself, "What do construction workers do, and when have I performed those duties?"
Gotten answers? If yes, these answers will serve as your resume experience bullet points.
Another great way to boost your construction resume experience is by doing a couple days of temp work or volunteering.
Search temp construction jobs online or ask around with friends or family.
You might like: Is Canva Good for Resumes?

Two entry level construction resume experience examples:
RIGHT

Construction Experience | 2016 – 2017

> Operated Skid Steer as part of daily work in fast-paced landscaping business

> Assisted with installation of new parking lot in a hotel front office job

> Worked as temp construction laborer for Temp to Hire Labor Pool

> Worked as construction helper for Takacs and Son Construction, Inc.

> Commended by management 4 times for strong work ethic

WRONG

Construction Experience: No construction experience yet, but I'm eager to do on-the-job training.

Other Experience

> Landscaping

> Hotel front office job


Just a simple question for you; if you are the hiring manager who is to recruit any of these entry-level construction workers, who will that be? I'm sure we're on same page, right?

4. Live Up Your Boring Education to Your Advantage
You may be wondering if a construction worker needs an education section furnished on his resume? The quick answer is "most definitely."
You can leverage upon your education and make it a hook that gets you hired. How do you do this effectively?
Begin with:
Name and location of school attended.
Time duration in School.
Degree.
You may even add relevant details that compliments the construction job description by tailoring it with the right accomplishments.
Check the examples below:
Education: Two Construction Manager Resume Examples
RIGHT

A.A. Construction, McHenry County College | 2018–2020

> Excelled in power tool and equipment operation

> Maintained 4.0 GPA in all OSHA Safety classes


High School Diploma, Mercer County High School | 2018
WRONG

Guttman Community College | 2007 – 2010

> Received a BA

> Studied business administration

> GPA 3.4


We have no doubt the first example above tells the hiring manager that the applicant is a doer and go-getter.
Are you looking to write an entry-level construction helper resume? Use this simple hack to land the job by tailoring high school experience bullet points.
Ensure to highlight your "wins" in classes, sport teams, or clubs that showcases construction qualities such as work ethic or physical fitness.
You might like: How far back should your construction resume go?

5. Use "Bonus" Sections to Your Advantage in Your Construction Resume
Want to go deeper in taking the bull by the horn and getting hired for the opened construction worker position?
Your construction resume experience and education may not be enough.
To hit deeper, furnish in some resume sections such as:
Certifications (Skid Steer Operator, OSHA)
Volunteer work
Additional activities
Workplace awards
Languages
Groups
Projects
Fitness
Use the construction resume examples below to see how these sections can be tailored:

Construction Resume—Added Sections
RIGHT

Certifications

> Skid Steer Certification, Caterpillar Inc.

> First Aid & CPR, American Red Cross

Courses

OSHA Education Center 15-hour Construction Safety Training Class

Additional Activities

> Habitat for Humanity construction volunteer, 3x per month

> Fixed leakage in local home with extensive French drain install



WRONG

Additional Activities

> Fishing

> Skeet shooting


Hiring managers will be motivated to work with the first example above as applicant seem to know his onions.

How To Put Skills on A Resume for Construction
Hiring managers perusing over 500+ professional construction worker resumes are not interested to see a long list of all skills in the construction industry reflecting on your resume.
Rather, they're interested in seeing only the skills that fit the job. This makes it a whole lot easier for you as you'll only need to carefully peruse the job description and highlight all the skills in it.
After which you select the ones you possess and reflect them on your construction resume.
Finally, ensure to prove you've got the skills in your construction laborer resume experience bullet points.
Let's consider a construction carpenter resume sample to throw more light on my thought:

Skills: Construction Resume Sample
Okay, let's have pictorial view of a construction worker job description seeking skills in speed, quality, flooring, framing, and drywall.
Simply include these skills on your resume skills list section and back them up with proof:
Executed extensive construction functions in a fast-paced construction firm, including

painting, flooring, framing,

cabinetry, and

drywall

Maintained

safe

work status with zero accidents for five years
Worked to company specifications

99.9% free of all defects

Performed work to schedule with

98% on-time status

Notice that this resume is anchored to the job offer and an example of a winning resume.
You'll see how we added "safety" despite not listed in the job description. That's because safety is important on a resume for construction jobs, even if the advert didn't mention it.
It is important to note that you can use skills highlighted to mean keywords for your construction resume.
Keywords are very important in your resume because employers use applicant tracking systems (ATS) that are programmed to give priority to resumes that integrate certain keywords.
If you take the time to match your resume with the job description, it will increase your chances of landing an interview and possibly a job too.

30 Essential Construction Worker Skills for a Resume
Categorized below are 30 essential construction worker skills you can reflect on your resume:

Skills for Construction Managers & Supervisors
Construction management
Project management
Inspection
Exertions relations
Quality control
Scheduling
Supervising
Construction and location supervision
Blueprints and reporting
Time management
Punch lists and contracting
Estimating and material costing
Invoicing and renovations
OSHA and hazardous materials
HAZMAT and building codes
Electrical codes & environmental codes

Skills for Construction Helpers
Bricklaying and carpentry
Cement mixing and concrete mixing
Plumbing and drywall installation
Electrical wiring and HVAC
Refrigeration and sheet metal work
Ironwork and masonry
Metal lathing and painting
Pipe fitting and roofing
Surveying, carpeting & trim detailing

Skills for General Construction Laborers
Heavy lifting
Heavy equipment operation
Measuring and safety regulations
Hammer skills and power tools
Demolition and truck driving
You might like: How Do I List Self-Employment & Freelance Work on Resume?

Bonus Tips on Entry-Level Construction Resume
When writing your entry-level construction laborer resume, focus on your education, skills and knowledge.
Specific safety knowledge or internship experiences are great resume builders to include on your resume.

You should include your work experience and all relevant skills, but they should come after the education section of your resume.
Observe the following rules while writing your entry-level construction resume:
Do not start with the professional experience section
Always start with your most recent educational experience since that's likely your most recent relevant experience
Always remember to include a career objective or summary
Always write a career profile that highlights your academic knowledge, personal skills, and degrees gained
Always include previous work history, whether part-time or an internship
You should also include work experiences, even if it was just during the summer, which required laborer skills; that will be appreciated by prospective employers
Mention your educational experiences first, followed by your professional experiences, this includes part-time work and internships
Do not disregard your previous work experiences, even if it's not full-time

Pro Tip:

Many entry-level construction roles are gained through apprenticeships, internships, and part-time jobs, so make sure to include these experiences to make up for your lack of professional experience.


Writing an Entry-Level Construction Resume
When looking for entry-level construction jobs, there are three particularly strong points to include on your resume. They are:
Teamwork
When writing an entry-level construction resume, always emphasize your ability to work in a team. Also, include any previous job responsibilities that had you cooperating with other staff.
It shows your prospective employers that you can work well in a team and produce positive results.
Communication
Working on a construction site can be dangerous and communication is key to avoiding on-the-job accidents or mistakes.
Those in charge of hiring construction workers need to know that they can rely on you to communicate effectively with others to avoid occupational hazards.
When writing your entry-level construction resume, don't forget to include proof of your communication skills.
For example, past work experiences where you resolved a dispute with a client or a time when you developed a plan or course of action and relayed that information to a fellow worker that benefited the organization.
Education
Having the relevant certificates or education can make a huge difference when applying for an entry-level construction job.
Be sure to include any construction-related educational knowledge that you may have acquired in the past.
Jobs: Entry level construction management jobs

The Most Common Myth About Cover Letters
Have you ever been told "cover letters do not matter"? Perhaps you've encountered this statement, please note that it is absolutely wrong.
Poor or bad construction cover letters are a terrible idea especially knowing how 40% of hiring managers consider cover letters mandatory.
It is important you tailor an outstanding cover letter to compliment your general construction resume.
This approach gives you a competitive edge over the multitude of applicants that would rather choose not to write one.

Here's a brief step to follow in ensuring your cover letter is well written;
Address your cover letter to the hiring manager himself by using his name, making the cover letter about him
Mention a fact or two you like about the company. Look online to find those facts.
Elaborate on how you can be an asset to his company. Look in the job description to find the company's greatest challenge, then cite a big accomplishment that shows how you can fill it.

Close with a call to action stating: "It'll be my pleasure to talk with you."


Pro Tip:

Ensure to follow up after a couple days. A strategically sent thank you email can get your construction resume a second read in no time.


Steps To Add Contact Info to Labor Resumes
Read on, to know you're not making a big mistake with contact info.
After understanding how to furnish your construction worker resume, let's see how you can input your contact info on your resume.
Your Full Name
Professional Email Address
Updated Phone Number

This can be inserted this way:
Suarez Jonah suarezjonah85@gmail.com 210-600-2505
Or
Suarez Jonah
suarezjonah85@gmail.com
210-600-2505

Endeavor to also add a LinkedIn profile, Twitter handle, or other relevant social handles because there's an important step after the manager reads your construction resume, and before he calls you.
That step lets the construction manager get to know you without picking up the phone.
Don't have a LinkedIn profile? Let one of our LinkedIn specialists provide you a LinkedIn Optimization Service that guarantee online visibility to potential recruiters.
Furthermore, a great cover letter that matches your resume will give you an advantage over other candidates. Our cover letter writers can help you furnish a cover letter that land Interviews 3x Faster.

Construction Worker Salary
According to Glassdoor, the estimated total pay for a Construction Worker is $57,286 per year in the United States area, with an average salary of $37,777 per year.
These numbers represent the median, which is the midpoint of the ranges from our proprietary Total Pay Estimate model and based on salaries collected from our users.
The estimated additional pay is $19,509 per year.
Additional pay could include cash bonus, commission, tips, and profit sharing.
The "Most Likely Range" represents values that exist within the 25th and 75th percentile of all pay data available for this role.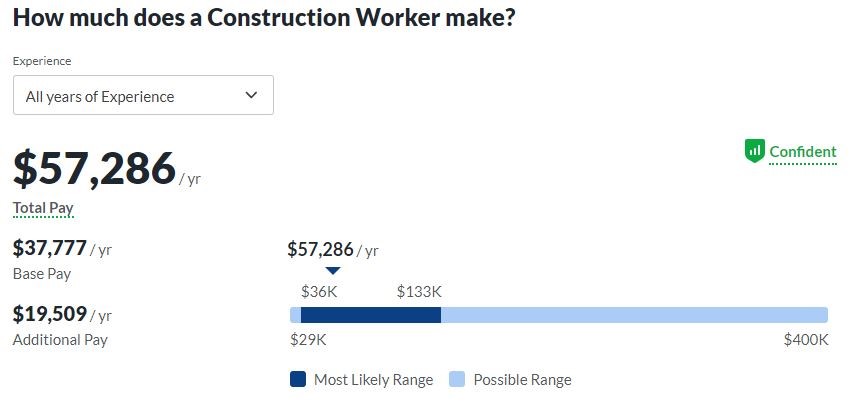 Conclusion
Getting a job as a construction worker could be easy or hard. The probabilities of landing the job hugely depend on your resume and how well it is presented.
If you are writing the resume yourself, just make sure to proofread it several times and also, feel free to send us a copy to assist you in reviewing and making HR standard recommendations.
It is absolutely FREE!
Want to save time writing your construction Resume/CV? Let us help you write a professional construction resume that will land you the job you deserve.