While situational interview questions may come as a surprise, preparing for them is in your best interest.
Remember the old saying; he who fails to plan already plans to fail.
When you provide great answers to situational interview questions, you stand a great chance of standing out from the crowd.
In this article, you'll learn:
What are Situational Interview Questions
Intent behind asking situational interview questions
15 Top Situational Interview Questions and sample answers

Want to save time and have your interview-ready resume in just 2-5 days?
Let our CEOMichaelHR certified resume writers take the guesswork out of resume writing by summing up and professionally showing off your industry skills and experience.

One of our customers, Ashphu, had this to say:
My resume writer Rolyns, did a great job with the format, as well as the content. He wonderfully conveyed my skills in a concise and direct manner. I started getting phone calls from potential employers almost immediately after the resume rewrite.

See more success stories.



Looking for more interview help? See:
50+ Top Behavioral Interview Questions (+Sample Answers)
Best Way To Answer "Where Do You See Yourself In 5 Years?"
450+ Words To Describe Yourself: Interview Tips
15 Best Answers to "Why Do You Want to Work Here?"
Unique Answers to "Why Should We Hire You?" for 25+ Positions

Without much ado, let's dive into the business of today!

What Are Situational Interview Questions?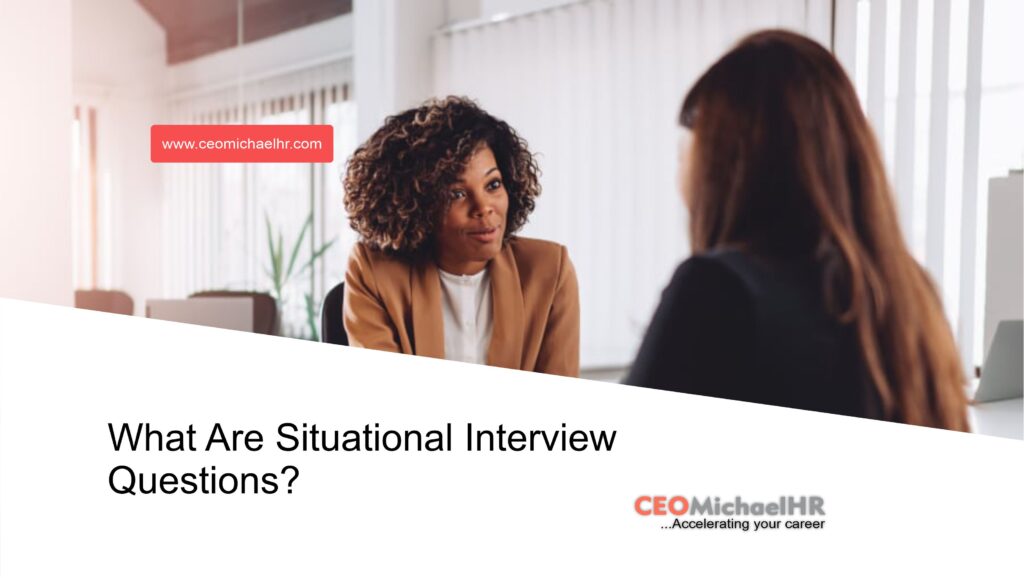 Your potential employer or interviewer asks situational interview questions to understand better how you would solve problems specific to your target job role.
These interview questions are the most commonly asked as they provide hiring managers with deeper insight into a candidate's strongest abilities and weaknesses.
Hiring managers commonly get this insight by asking questions about how you've handled similar challenges in the past or by giving you hypothetical situations to work through.
Your answers will give your interviewer a better understanding of your soft skills, such as teamwork, leadership, and communication.
While answering these questions might be tricky and daunting, it's your chance to stand out by showcasing your skills and accomplishments and putting those skills into practice.

How To Answer Situational Interview Questions Using Star Method

Telling a story can sometimes go boring and messy, making you risk boring your interviewer during your interview.
Trust me; the stakes are high when you go the story way without a plan.
To avoid making your interviewer doze off at mid-story, the STAR formula is your best bet!
STAR is an acronym for Situation, Task, Action, and Result.
You'll be following this structure when giving answers to situational questions.

Let's see an overview of this method below:
Situation – Begin by giving the interviewer some context and explaining the setting of the story
Task – Talk about your duties and responsibilities while working on your role
Action – Explain the steps you took to carry out your duties effectively
Result – Give a brief wrap of your answer and talk about whether the situation was solved or not. You can free to use metrics such as numbers and data
Let's put the above into practice by taking a look at the example below:

Situational interview question:

"Tell me about a time when you faced conflict at work. How did you deal with it?"

Situational interview question sample answer:

Situation – During my time working at ABC accounting firm, I encountered an unhappy client who said I did not attend the meeting scheduled with him.
As far as I know, I had no meeting with him on my schedule, and I didn't even remember setting up an appointment with him.
However, when I researched further, I discovered a colleague was supposed to have notified me about it.
Task – I confronted him about it, and he said he had sent me an email a day in advance.
I never received an email, so he either didn't realize it was never sent or got marked as spam.
Regardless, he should've noticed my lack of reply to the email and double-checked with me.
I had to reschedule with the client and do a lot of apologizing.
Action – I went on a coffee date with him to figure out the problem.
He had been offended that I didn't believe he'd sent the email.
I apologized and explained that I trusted him and that no actual harm was done.
After this process, the client seemed to have forgotten about what happened between us.
Result – We had a mutual resolution, and I ended up on friendlier terms with my colleague afterward.
Ready to turn the tables on the interviewer?
After answering your difficult situation interview questions, ask your own.
See our guide: 25 Top Unique Interview Questions To Ask Employer

15 Common Situational Interview Questions And Answers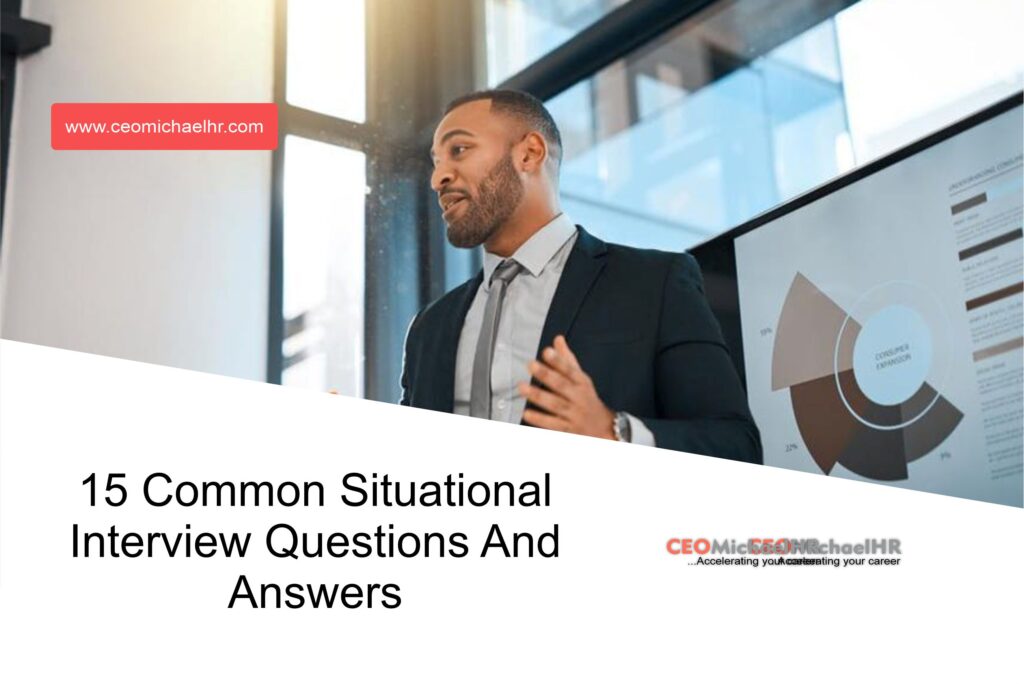 As promised, we present our top list of 15 great "tell me about a time" questions.
This challenging situation interview question examines your work ethic.
Here's how to answer "Tell me about a time when" questions:

1. Tell me about a time you reached a big goal at work. How did you reach it?

Correct Answer:
The company wanted to double our rafting guests for the summer. I put together a 3-part plan with a full-color calendar, social media campaign, and found-media outreach. We not only hit our goal, we got a 50% budget increase for the following year.



Incorrect Answer:
We had to double our clientele. I designed a new marketing strategy we hadn't tried before. We reached our goal.



2. Describe your biggest work failure. How did you handle it?

Correct Answer:
I let a big order of defective parts get all the way to shipping. That was bad and created a lot of scrap. After, I suggested we install mistake-proofing so it could never happen again. We created some dies with pins in them so the parts can only be put into the machines one way. We haven't had a single defect since.



Incorrect Answer:
I shipped a big order of defective parts to a customer. It cost the company a big contract.



3. What is your greatest achievement?

Correct Answer:
When I was working as a sales agent at a boutique store, the business was going through a bit of a hard time. A lot of competitive stores had opened up nearby and sales were below target. I decided to try something and with the owner's permission, decided to do some marketing. I opened up social media accounts for the store and did some advertising. I also got in touch with some other businesses, mainly bars and restaurants, and proposed we collaborate on some posts and help advertise each other. No matter how minimal, this appeared to have an effect. In the beginning foot traffic at the store increased a lot, while sales grew slightly. After a while, sales started consistently reaching the target. That experience is what made me decide to pursue a career in marketing.



Incorrect Answer:
I used to work for a boutique store as a sales agent. The business wasn't going very well for them until I decided to intervene and did some marketing. That had a great result and the business was back on its feel. Who knows, they might've even closed if I hadn't helped. I was very proud of that achievement. It made me realize my marketing skills.



4. Tell me about a time you had to collaborate with a coworker who was tough to please.

Correct Answer:
The other pharmacy tech in our lab always had to have things her way. I picked my battles and actually found out she had some good ideas. When I felt very strongly about making changes to our ordering process, she was eager to help. We decreased our processing time by 25%.



Incorrect Answer:
I worked with another pharmacy tech who always had to get her way. I kept my head down and did what she said because it was easier that way. Eventually she moved on to another job.



5. Tell me about a time you went above and beyond for work.

Correct Answer
Sure! This one's a very funny story, actually. I was working as a real estate agent at Company X at the time and I'd taken a week off work because my sister was getting married. Fast forward to the wedding day, two hours before the ceremony, I get a call from one of my clients. They ended up in town for a day and wanted to schedule an impromptu apartment viewing. This particular client was usually very busy, so I didn't want to miss the opportunity so I agreed to do the showing… while in my bridesmaid dress! I was extremely tight on time, but I made it back to the ceremony on time AND sold the house to the client. My boss was very impressed that I'd sold a property even while being off work.



Incorrect Answer:
Well, I remember this one time I was about to leave the office. My boss called me in and asked me if I could stay longer to help with some work. Of course, I agreed. That caused me to miss the bus and get home for dinner late, but it's fine.



6. Give me an example of a time you made a mistake. How did you manage the consequences?

Correct Answer:
Hmm, so this happened when I was working as an office assistant at a legal firm. It was my first job, so I was both excited and nervous. One time, one of the partners had asked me to stay late and help prepare some paperwork before the trial on the following day. On the day of the trial, I go to photocopy some other documents at the office when I notice a paper on the printing machine. It was part of the trial documents. I'd accidentally left it there, which meant the lawyer didn't have it with him for the trial. I immediately rushed to deliver it myself but didn't make it in time. When I got to court, the trial was already over. Luckily, the lawyer had still managed to do without it and even won the case, but I was still devastated. After that day, I made sure to double and triple check all machines after using them.



Incorrect Answer:
Well, I once made a mistake that almost cost my law firm a trial and a lot of money. It was accidental, but still. I'd given one of the lawyers the trial documents with some missing pages on them. I should've checked better, but ah well, we all make mistakes!



7. Describe a situation where you had to make a good impression on a customer. How did you do it?

Correct Answer:
In my wedding video business, one client hounded me day and night before her daughter's wedding. I asked the venue if I could "fire" her. They said her photographer, baker, and band had quit, and I was welcome to. I decided to stick with her. She was so happy she hired me to do her other daughter's wedding the next year. The venue made me their exclusive vendor.



Incorrect Answer:
Whenever I have to meet with an important client, I make sure I'm dressed professionally and I show up on time.



8. Describe a time when you had too many to do items on your list. How did you solve the problem?

Correct Answer:
Our department downsized and I got twice my normal workload. I found ways to do things quicker by sourcing new transcription software and making a new system for sorting interviews. I was able to do twice the work with the same effort.



Incorrect Answer:
During the holiday rush, I had a lot more to-dos than normal. I had to work some overtime, but I convinced them to hire a temp assistant.


9. Tell me about a long-running project you handled. How did you manage your time to meet your deadlines?

Correct Answer:
My team had to develop a SaaS app for a major client. We used the Agile SLDC model with 2-week sprints and daily standups/scrums. By delegating time management, we were able to finish the project 20% ahead of time.



Incorrect Answer:
We had to develop a SaaS app for a big client. It took a year to get all the kinks worked out. I kept myself on a strict schedule the entire time.



10. Tell me about a time you had to work with an important customer or a difficult manager.

Correct Answer:
I had an editor who always complained about my work no matter how hard I tried. I added a second round of proofreading on each piece. Since then, I've received numerous compliments from editors over my level of "polish."



Incorrect Answer:
I had a boss who was always micromanaging me and everybody else in the department. I stayed out of his way and got my job done. It wasn't easy, but I learned to keep my head down.



Situational Interview Questions & Answers- Job-Specific Skills

11. Tell me about a time you made a great presentation.

Correct Answer:
We had to convince a big client to go with a costlier alternative that would ultimately make them higher profits. I put together a demonstration based on 10 real-world applications. They not only went with our suggestion; they became a long-term client.



Incorrect Answer:
I had to make a presentation to a client to convince them to pick the costlier of two alternatives. They did, and we got a bigger payment for the deal.



12. Tell me about a time you used written communication skills?

Correct Answer:
I wrote reports as part of my daily shift. My department head frequently commented that my reports were the shortest and easiest to understand of all the officers.



Incorrect Answer:
I used written communication skills to write reports every day.



13. Tell me about a time you had to persuade someone to see your side of things.

Correct Answer:
The owner was convinced our gift shop was a moneymaker. I analyzed our cash flow and found it was running at a 10% deficit. I built data visualizations that showed we could increase store revenue 40% through focusing on more popular products.



Incorrect Answer:
The owner thought our gift shop was profitable. I sat him down and explained to him that he was wrong. He saw my side of things and agreed.



14. Describe a situation where you used Photoshop to complete a project.

Correct Answer:
We had a chance to win over a high-paying client. My design was shortlisted for a Design Week Award. We got their repeat business and raised annual revenue by 15%.



Incorrect Answer:
I've used Photoshop daily for 10 years. I guess one of my projects was to design a Tri-Fold for a client.



15. Tell me about a situation when your job went through big changes. How did you adjust?

Correct Answer:
When our company grew, I went from a network administrator to a full system administrator. I read 5 books on systems admin and took a class to get a handle on my new responsibilities. I then used automated system monitoring and strategic hardware location to save us $50,000 a year in lost time and materials.



Incorrect Answer:
I was upgraded from a network admin to a systems admin. It was a lot more work and responsibility, but I adjusted well.



Conclusion

Again, never forget the STAR formula.
The PROBLEM
The SOLUTION
BENEFIT to the company.
At this junction, we've come to the end of the topic: Situational interview questions and answers.
That was quite the read.
If you enjoyed and found it helpful, I'll be glad you click on the share button to spread the word to your friends, colleague, or family who needs this information.
For more industry-leading career advice, make sure to follow our career blog. 

Ready to level up and make that big career move but unsure of the worthiness of your resume?

Let one of our CPRW Resume Specialists give you a free resume critique to see why your resume is underperforming.

You will receive personalized feedback on the top 3 areas you can improve based on our best practices!