Usually, the most challenging job interview questions are also the most straightforward. One you should expect to hear and prepare for.
This article will provide a stellar guide to answering this critical job interview question: Why do you want to work here?
Of all the interview questions job seekers prepare for, this obvious interview question usually gets the least attention.
Similar to a challenging interview question — "Why should we hire you?" — "Why do you want to work here?" require laser focus response streamlined to your interviewer's intent.
Of course, you came ready to share your failures, best accomplishments, and most impressive strength, but how do you respond when faced with a comprehensive but straightforward question like this?
Note that it is risky not to prepare your response beforehand as this could determine if a potential employer offer you the job — or not.
With many professionals quitting their jobs as part of "The Great Resignation," hiring managers want to be definite that the individuals they hire are serious about the opportunity and interested in being part of the company for a long time.
Read on as we guide you with sample answers and proven strategies for answering this common interview question.

How to Answer "Why Do You Want to Work Here?"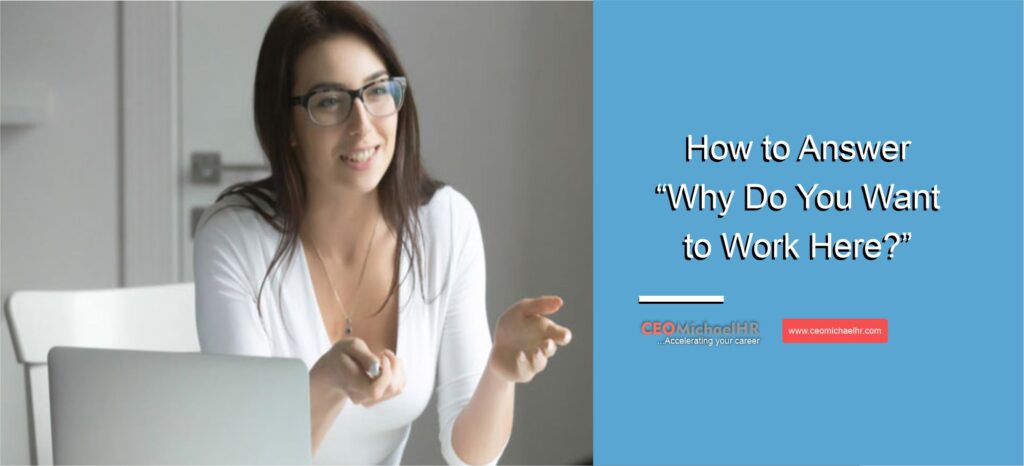 Your interviewer is actively searching for individuals who will fit in the company's' culture and are passionate about working there.
A good response will help you shine your knowledge of the company and industry. This means you'll have to conduct critical research to identify reasons why you want to work there.
You might like: 50+ Top Behavioral Interview Questions (+Sample Answers)

Best possible reasons to consider include:
Company's reputation
Executive management reputation
Love for company's products/services
Company's culture and values
Company's growth rate and overall success

Reasons are not limited to the above alone; you can also brainstorm others that can work. However, reasons like "I need the money" or "It's close to my house" can be a deal breaker.
Because cultural fit is essential, endeavor to learn a lot about the company's culture before the interview.
Many companies advertise the kind of culture they showcase. Make it clear in the interview if you feel it aligns well with your traits and personality.
Sell yourself to the employer by ensuring your response aligns with their intent.
While brainstorming your answer, emphasize your employer's strengths; these can be gathered by critically researching their company. For example:

What are training and growth opportunities they offer to someone in your career?
Why do other candidates prefer to work for them instead of their competitors?
What are the employer's contributions to their industry or community?

Once you've established all the parameters for your response and what your employer is looking for—you can now highlight what offerings you've got that will meet their company's needs.

You might like: Best Interview Tips: "Describe Yourself In Three Words"

Common Mistakes: "Why do you want to work for this company?"
Too-generic answer: Saying, "The company is great, and I'd love to work there." is cool but not unique. Many job seekers make this mistake when trying to pitch their answers to "why do you want to work here."
Uninformed answer: This answer tells the employer you've done zero research on the company. It doesn't sound reassuring to employers when they notice you don't even know what the company does — or that you only have a random idea about the company.
Unenthusiastic answer: This answer gets the interviewer puzzled on whether you crave the job. Saying something like "I heard there were some open positions, so here I am." could be a turn off. You must demonstrate a healthy enthusiasm to show the employer you are genuinely excited to land the job.

Why Do You Want to Work in Our Company: Sample Answers

Sample Answer 1:
"I firmly believe in taking a collaborative approach to each project so when I saw a position with your company to join the production team, I knew I had to apply. I've seen your work in theatrical production, and your behind-the-scenes video really inspired me because I saw the teamwork in action. I love working with a team to achieve a common goal, and I know my background in production has prepared me for this role. I look forward to becoming a valued contributor to this phenomenal team."


Detail:
This response summarizes everything in one package to the employer.
It clearly explains the level of awareness from the candidate about the company and how the candidate has learned about their work and projects from videos and their website.
This example perfectly matches the company's values and the candidate's experiences.
Without any doubt, this candidate stands an excellent chance of getting hired.

Sample Answer 2
"Well, the JP Morgan reputation is certainly a factor. I would be proud to build a career with JP Morgan, a company with such a long history of leadership in the industry. Also, a good friend of the family has been working in corporate finance at JP Morgan for the last two years and he told me that the culture supports learning and development on the job – and really rewards hard work. These are values I also share and feel I could be an excellent fit with JP Morgan."


Detail:
In today's job market, providing a cookie-cutter answer to the question, "why do you want to work here?" even if your resume is stellar, won't be enough to distinguish you from other candidates.
This sample answer identifies the JP Morgan brand and reputation but demonstrates that the candidate took the time to do additional research through their network.
The answer goes on to emphasize the candidate's values, strong work ethic, and enthusiasm to develop in their role.

Sample Answer 3:
"As a sales associate, I helped my company increase its revenue by 30% in 2021. In addition, my conversion rate for the month of June 2022 was 25%. I'd say understanding customers and knowing the product is the perfect formula for any great salesman. And because I like and believe in your product, I'll be able to deliver even better results for your company."


Detail:
Simply laying claims is not enough. When you back up your claim with metrics and data, you stand a greater chance of landing the job!
This candidate is metric-driven — he proved his skills and tailored his success secretes, which can help recruiters get a glimpse of his work approach and future performance.

Sample Answer 4:
"My insatiable curiosity and problem-solving skills make me a great developer. I'm fully proficient in several coding languages. So far, I've worked on software development in the trucking industry but I'm looking to switch to something more sophisticated. Also, I've been using your app for several months and it's served me well – so I'd like to be on the back-end side of things. Overall, I think I'd really enjoy working in your company."


Detail:
The candidate is direct, letting the employer know his ready to take on more tasks and complex work, which is why he opened up about changing industries.
He also mentioned using the company's app and being familiar with the user experience as a bonus tip to let the employer know that this knowledge will help them immensely when hired to work in the company.
You might like: 25 Unique Interview Questions To Ask Employer

How to Answer "Why Are You Interested in This Position?"
So, you've established how much you love to work for the company. However, you must be set to enthusiastically talk about the position and provide a stellar answer to why they should hire you.
To effectively do this, you should ask yourself what enticed me to respond to the job ad.
You must be prepared to discuss what excites you about the role. Besides, hiring managers want to hire someone who is committed and loves the work.
A definitive answer will give you the chance to talk about your expertise.
And yes, the interviewer is interested in knowing why you want to work with the company; he'll even show more interest in hearing about how your skills and experience can impact the company's bottom line.
The fact is that companies like to hire people who are passionate and experienced at the job. Communicating your interest and ability will be in your best interest.
Below are common mistakes made when answering the question: "Why are you interested in this position?"

Common Mistakes: "Why are you interested in this position?"
After seeing similar mistakes when answering the question, "Why do you want to work here?" here are two critical mistakes made when answering, "Why are you interested in this position?"
Too generic answer: Never give the impression that you're only interested in this job because it's available. Compare job interviewing to dating (hopefully, dating is at least a little bit more fun for you). No date wants to hear, "You were the only one who would go out with me." It's the same with job interviews. You must impress the company and discuss why the position is a perfect match for you.
Unenthusiastic answer: Responding without enthusiasm confuses the interviewer if you want the job. Don't play too cool. Demonstrate your passion for the work and how the job fits into your objectives.
You might like: 450+ Words To Describe Yourself: Interview Tips

Sample answers: "Why are you interested in this position?"

Sample Answer 5:
"I read an article a few months back on the outreach your company does within the community. Giving back and volunteering is a significant part of my own personal values, and I remember feeling excited that a company values the community as much as I do. That excitement grew when I saw there was a job opening in my field here. I would really love coming to work each day, knowing that I am helping to make a difference in the community through my work here."


Detail:
The above response shows a candidate who is well rooted in the company's ethics and values and knows how to align them with his own experiences.
The candidate also reflects how delighted and dedicated he'll be if given a chance to work with the team and the company.
Hiring managers are motivated by this kind of response.

Sample Answer 6
"I feel that my proven track record leading multi-functional teams makes me an excellent match for the job requirements. Also, the role excites me because I love the idea of helping to develop cutting-edge software products and I know I could start delivering results from Day 1."


Detail:
The response by this candidate sold him as he addressed what he liked about the job.
He leads because his experience makes them great for the job requirements.
Furthermore, he stated that the role excites them. This is good. Don't be shy about explaining your need for the job.
Demonstrate a healthy enthusiasm.

Sample Answer 7:
"I have used your software for many years and am consistently impressed with the innovation and developments made in the space. I also appreciate your dedication to education, providing your customers with free demos to learn how to use your products effectively. I would love to be a part of this innovative team and use my skills to continue the groundbreaking work you are doing here."


Detail:
The response from this candidate shows how well he is aware and impressed with the company's product.
He is ready to motivate the hiring manager, even if it means complementing the company for its product.
As a direct user of the company's products, the candidate displays his knowledge of what the company does and how prepared he is to be a part of the team.

Sample Answer 8:
"I've seen your company consistently listed as one of the top places to work. I've read employee testimonials and heard of your enthusiasm for encouraging employee growth through education, training, and vast resources. I already know that engaged employees produce better work, and that is evident in the most recent campaign you created. I would love to join your innovative team, continue to create great work, and grow within the company by learning new skills."


Detail:
The response above answers the question, why do you want to work here? It is focused on the company's reputation.
Hiring managers are motivated to hear from candidates who speak well of their company's standards.
This candidate opened up to his potential employer, explaining what he could bring to the table.
In the end, employers will be interested in hiring candidates with great experience and innovation to help the company achieve its goals.
You might like: How To Answer "Where Do You See Yourself In 5 Years?"

Your Best "Why Do You Want This Job" Answer

Sample Answer 9:
"I've heard of your reputation in the industry, and I would be proud to work for a company with such an excellent track record and a strong example of leadership in the industry. I have a friend that works in the accounting department, and he told me that the culture here is top notch and that management supports continuing education and learning on the job while rewarding hard work. Based on his assessment and encouragement, I think that I would fit in perfectly with the team here to make an immediate impact."


Detail:
This response perfectly answers the question, Why Do You Want This Job?
When there is an opening in a company, it can be communicated to a colleague specifically to recommend someone they trust.
Candidates who are recommended already win the trust of the company courtesy of the colleague who recommended them.
The hiring manager will eventually hire the recommended candidate knowing how dedicated the employee will be working for the company.
This happens when there's already a working relationship between the hiring manager and the colleague who recommends this candidate.

Sample Answer 10:
"I saw an article about your new CEO John Smith and the company's renewed investment in innovation. As a natural innovator, this drew me to the position with your company because I know that I will thrive in a situation where innovation is at the forefront of everything we do."


Detail:
This candidate's ability to innovate is one of his core values.
In a concise answer, he showcases his knowledge about the company and how this position suits his natural abilities.

Sample Answer 11:
"This organization is internationally known for the technology products you create, and my experience in technology and developing new products has me intrigued by this position. I saw that last year you won multiple awards for the new processor you designed, and I would love to be on a team that is collaborative, hardworking, and resourceful."


Detail:
This response sums up the candidate's value, the recruiting company, and the available opening as one.
Sometimes the hiring manager asks, "Why do you want to work here?" They are trying to determine why you like the company and the position.
It could be exciting to add a slight nod to what drew the candidate to this position.

Example Answer 12:
"My academic background and numerous writing courses directed me towards content writing. I feel that this position is a natural step forward in my career and I'll give my best to contribute and grow together with the company. Even though I don't have much corporate experience, my work ethic sets me apart and I believe the HR industry is the perfect place for me to grow into a world-class expert. In addition, I have so much to learn from the senior writers on your team and I'm sure I'll remember that experience forever."


Detail:
Here is an answer by an entry-level demonstrating enthusiasm and teachability.
Despite possessing less experience, the candidate talks about his transferable skills and demonstrates a strong will to develop, perhaps his greatest asset.
It's often heard that companies should hire for soft skills because hard skills can always be taught — and this is especially true with juniors who are looking to enter a company.
We're impressed by this candidate's zeal.

Sample Answer 13:
"It's simple, I read your company's mission and vision. After finding out more information about your company from social media, I can clearly see how my goals align with the purposes of the company. There's nothing I love more than when I am working with other engaged individuals towards a common goal, and that's what excited me about working here. My research has led me to four fundamental ways that my goals align with yours, and here they are."


Detail:
This response clarifies the direct link-up between the individual values and the company.
It explains the exact way the candidate's mission matches the company's.
The hiring manager will recognize that this candidate did their homework and is excellent for further development and upholding of the organization's values.

Sample Answer 14:
"I first found your company several years ago, and I was inspired by the tone and style of your brand. You market yourselves to a millennial audience, which I can relate to. After following you and observing your job openings for several years while working my way up at a smaller marketing firm, I believe I am now ready to join your exceptional team, enhancing and driving forward a brand that is a natural extension of my own beliefs."


Detail:
This example ties together the candidate's and the company's values effortlessly.
It demonstrates that candidates already have an idea about messaging and branding.
Hiring managers will be delighted to get him hired to represent the brand and be a part of the team the company is building.

Sample Answer 15:
"Before the recruiter called me about this opportunity, I must admit that I didn't know much about your company. I've been doing some research in preparation for this discussion, and I need to say that I'm impressed by your work and your vision for the future. I'm genuinely interested in getting more involved in the technological side of marketing, and I read that you are growing in that area. As an experienced marketer with an emphasis in technology, I know I can bring a lot of value to the team."


Detail:
Hiring managers love individuals who possess a high degree of honesty.
It's okay, as the candidate opened up about not knowing the company before applying.
He, however, backed it up by stating his research on the company and what interests him about the company.
He also demonstrated his desire to work at the company and explained why.
You might like: (Q&A) Predictive Index Test: What it is and How to Prepare (Full Guide)

Why Do Interviewers Ask "Why Do You Want to Work Here?"
We've undoubtedly covered a milestone in answering this critical and challenging interview question.
Now, let's leap back to the bone of this question.
What is the core reason for ever asking this question?
We'll put; hiring managers are interested to know if you "did your homework" before the interview. They're looking to:
Gain insight into your work ethic and how this position fits into your career goals
Ensure you are passionate about the role and will be motivated to perform if hired
Understand your knowledge of the company, industry, and position
Measure your priorities as to which areas of the company and job excites you and why?

Note that each aspect of these questions must be answered uniquely. (This can only be achieved by how well you've conducted your research on the company and position).

Bonus Tip: What Not to Say When Asked: "Why Do You Want to Work Here"
Never make the mistake of responding these ways when asked the interview question, "Why do you want this job" Do not say you want the job because:
You like the salary
You like the perks or benefits
You like the title
You want to work at a particular location
You couldn't get first desired job

You might like: 15 Top Free Career Aptitude Test

Conclusion
You can respond in various ways when a potential recruiter asks you, "Why do you want to work here?"
The key is to be as authentic as possible. Only mention specific values or information that relates to what your ethic and belief.
If you notice there is no way possible to answer this question despite your preparation, the company may not be suitable for you.
Always show that you've done your research and match the company values to your own; you'll surely succeed, and the interview will be a piece of cake.
Before you can share your time with a company during an interview, your resume must be optimized for the job. CEOMichaelHR has expert writers in every industry that can help you win interviews.
Best Wishes with Your Interview!