Are you seeking a career in wealth management but unsure how to make that dream a reality?
In this article, we'll cover:
The role and job description of a Wealth Manager
Wealth Manager Salary and job growth
Our proven tips for crafting a job winning wealth management resume
Best template you can use as you craft your own compelling wealth management resume

Want to save time and have your interview-ready resume in just 2-5 days?
Let our CEOMichaelHR affordable resume writers take the guesswork out of resume writing by summing up and professionally showing off your industry skills and experience.

One of our clients, Ashphu, had this to say:
My resume writer Rolyns, did a great job with the format, as well as the content. He wonderfully conveyed my skills in a concise and direct manner. I started getting phone calls from potential employers almost immediately after the resume rewrite.

See more success stories




Job Description of a Wealth Manager
A Wealth Manager offers financial advice to high net-worth clients.
These experts conduct financial planning, investment management, and assist in preserving and generating wealth.

Peruse the Wealth Manager job description template below sourced from Betterteam.

We are looking for a wealth manager to be responsible for offering financial advice and services that will assist clients in their financial endeavors. The responsibilities of wealth managers include relationship management, helping clients with account details, and providing advice on financial investments.

To be successful as a wealth manager, you should have the ability to explain complex information, be confident, and have good sales and negotiation skills. Ultimately, a top-notch wealth manager should have superior knowledge of wealth management, good presentation skills, and an understanding of customer relations tactics.

Wealth Manager Responsibilities:

> Advising clients on financial products and services.
> Buying and selling stock on behalf of the client.
> Managing investments.
> Conducting planning services.
> Providing tax planning services.
> Providing estate planning services.

Wealth Manager Requirements:

> Degree in finance, economics, management, or related field.
> Previous experience in financial services.
> Must be analytical.
> Able to understand complex information.
> Strong mathematical skills.
> Confidence.
> Good presentation skills.



Wealth Manager Salary and Job Growth
According to research by salary.com, wealth managers earn a median salary of about $84,000 per year across the U.S, with the potential for upwards of six figures in income.
Wealth Management job growth is also expected to be around 4% through 2029, which represents a healthy rate of increase for available jobs.

6 Tips to Create a Compelling Wealth Management Resume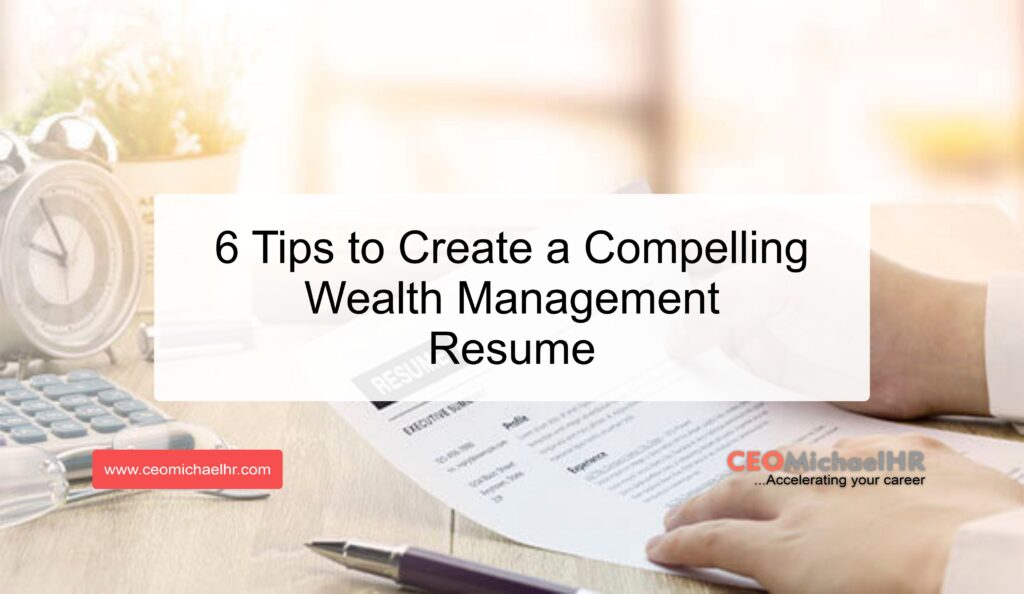 Creating a compelling wealth management resume involves showcasing your professional experience, skills, and educational credentials in a way that sells you as the best candidate for the role.
Our 6 proven tips below can help you tailor a highly effective and compelling wealth management resume.
You might like: Top Transferable Skills- 45+ Examples for a Resume

1. Furnish Your Contact Information
Your contact information includes personal details situated at the header section of your resume.
These details are critical as they help your potential recruiters get in touch with you once selected as their choice candidate.
Contact details should include your full name, address, phone number, email, professional LinkedIn address.

2. Tailor a Powerful Professional Profile
Your wealth management resume profile statement should come right after your contact info and before other resume sections such as skills and work experience.
This section provides employers with a brief overview of your career accomplishments and qualifications before they read further.
Due to how early it appears on the document, your resume profile statement is one of the first places recruiters and employers peruse.
And if tailored wrongly, they'll doubt that you're qualified and immediately move to another candidate.
You might like: 15 Key Strengths to Put on a Resume

3. Write an Accomplishment-based Work Experience
The work experience section of your wealth management resume is the foundation that either qualifies you or disqualifies you for an interview or the next step in the hiring process.
This resume section uses the last 10 – 15 years of relevant career history to tell a prospective employer how qualified you are for the opened position.
Your work experience should be accomplishment-based to offer credibility to your application and compliment every other aspect of your application materials.
Each highlighted job role should include the company name, position held, start and end date, and a bullet list of quantifiable accomplishments while working the role.
When you quantify your accomplishments, you'll easily help the recruiter understand hiring manager understand the type of real value you can provide if hired for the position.

4. Highlight Your Education
A professionally tailored education summary can show recruiters your relevant academic qualifications and make you stand out from the competition.
Your academic summary helps your potential recruiter understand if you have the right academic background for the role you are targeting.
Each section of your education should include the name of the institution you attended, the location, degree earned as well as your date of graduation.
Details like honors earned, awards received can also be included in this section.

5. Include Relevant Skills
Your wealth management resume should include skills that are relevant to the position.
Consider including hard skills like analytics, financial planning, software knowledge, and soft skills like communication and problem solving.
Note that these skills go beyond just listing on your wealth management resume, they are keywords that can help you pass the application tracking system (ATS) scan.
You might like: 15 Key Skills to Put on a Resume Right Away

6. Include Relevant Certifications and Licenses
Last but not the least, a special section that highlights your relevant certifications and licenses can make you stand out from your competitors.
While certifications vary depending on the state you live, info such as state securities trading license, or certification as a chartered financial consultant, estate planner, or private wealth advisor can be included.

Wealth Management Resume Template

CONTACT

[Your Name]
[Your Location]
[Your Phone number]
[Your Email address, LinkedIn address]

PROFESSIONAL PROFILE

[This section should briefly describe your qualifications, highlight one or two key skills, and explain how your talents can provide value for the company.]

PROFESSIONAL EXPERIENCE

[Position]
[Company]
[Location]
[Employment years]
[responsibility and quantifiable achievement]
[responsibility and quantifiable achievement]
[responsibility and quantifiable achievement]

[Position]
[Company]
[Location]
[Employment years]
[responsibility and quantifiable achievement]
[responsibility and quantifiable achievement]
[responsibility and quantifiable achievement]

EDUCATION

[Degree earned]
[College name]
[College Location]
[Graduation Date]

KEY SKILLS

[Skill]
[Skill]
[Skill]
[Skill]
[Skill]

CERTIFICATIONS/LICENSES

[Certification]
[Certification]
[License]



Conclusion
Pursuing a career in wealth management can offer high income, and an opportunity to help high net worth individuals make the most of their wealth.
To land this highly competitive role, you'll need a quality, powerful and branded wealth management resume.
We hope that the tips listed in this article can help you craft a powerful wealth management resume to launch your career.
Still struggling to craft that perfect wealth management resume?
Yes?
Let one of our senior writers offer you a free resume review to learn more about how we can furnish a branded professional resume that'll land interviews 3x faster.