Are you a jobseeker curious about knowing what Clubhouse networking is, and how the Clubhouse app can be of great impact on your job search?
Be at ease because in this article, we'll discuss the following:
What is Clubhouse and how does Clubhouse networking work?
What you need to know about the app before signing up
How you can seamlessly connect with many small business owners and creators across various fields and industries
5 distinct ways to network on Clubhouse

Want to save time and have your interview-ready resume in just 2-5 days?
Let our CEOMichaelHR affordable resume writing services take the guesswork out of resume writing by summing up and professionally showing off your industry skills and experience.

One of our clients, Ashphu, had this to say:
My resume writer Rolyns, did a great job with the format, as well as the content. He wonderfully conveyed my skills in a concise and direct manner. I started getting phone calls from potential employers almost immediately after the resume rewrite.

See more success stories




What Is Clubhouse and How Does It Work?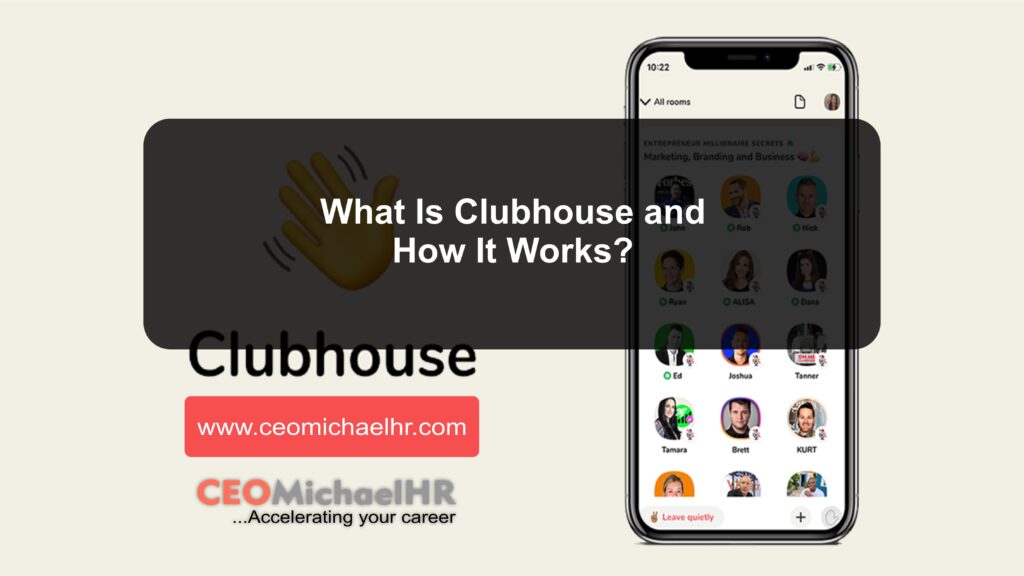 It's no news how everyone is talking about the new social media app.
Since the top of 2020 when TikTok took the center stage, networking has gone way digital, and this time, not revolving only around LinkedIn and Zoom happy moments. A dynamic social media app called Clubhouse is becoming more and more popular.
While of course there are valid criticisms of the Clubhouse app, Clubhouse remains multifaceted and a goldmine for networking with the right individuals.
For beginners, Clubhouse is an audio-only, drop-in app you can join only when invited or when you get off the waitlist.
Clubhouse is seen to be like a conference call or party line where an individual can enter into various rooms to listen and contribute in live discussions.
Note that before you participate in any live discussion, you must be invited by a current member being an invite-only app, or you enter a waitlist.
You never can tell, one of your coworkers, friend, or network connection might already be a member. Any of these folks can help you enter into this exclusive Clubhouse space.
In Feb 2021, Clubhouse has amassed over 10 million members including celebrities and business manganate like Kevin Hart and Elon Musk.
Just 2 years after the launch of this great social networking app, its wide acceptance has triggered other social networking platforms such as: Twitter, LinkedIn, Slack, and Spotify to incorporate audio social networking features to their platform.
While the Clubhouse app is currently only available to iOS users, they are actively working on the android version.
Let's take a step further into how the Clubhouse app work.
Upon joining Clubhouse, you'll add your interests to help the system give you a personalized experience.
New members see a party popper hat on their profile picture.
On the app, you can begin to follow other members including celebrities, influencers and even your contacts.
You can explore the app by scrolling the homepage of using the Explore page to see other members, rooms, topics, and clubs. It's similar to a discover tab on Instagram.
You might like: How to Get Headhunted: Thrill of the (Job) hunt

Find below a few Clubhouse terms or registers:
The Hallway: This term refers to the Clubhouse homepage which is the first page you'll see when you open the app.
Clubs: This is a term referring to interest-based groups one can join or follow. You'll be able to create yours after hosting three different discussions.
Clubhouse Rooms: This term refers to chat rooms where various clubs host discussions. In each room, you'll see the name of the room, list of speakers and members.

Clubhouse Networking for Jobseekers: How to Do It Right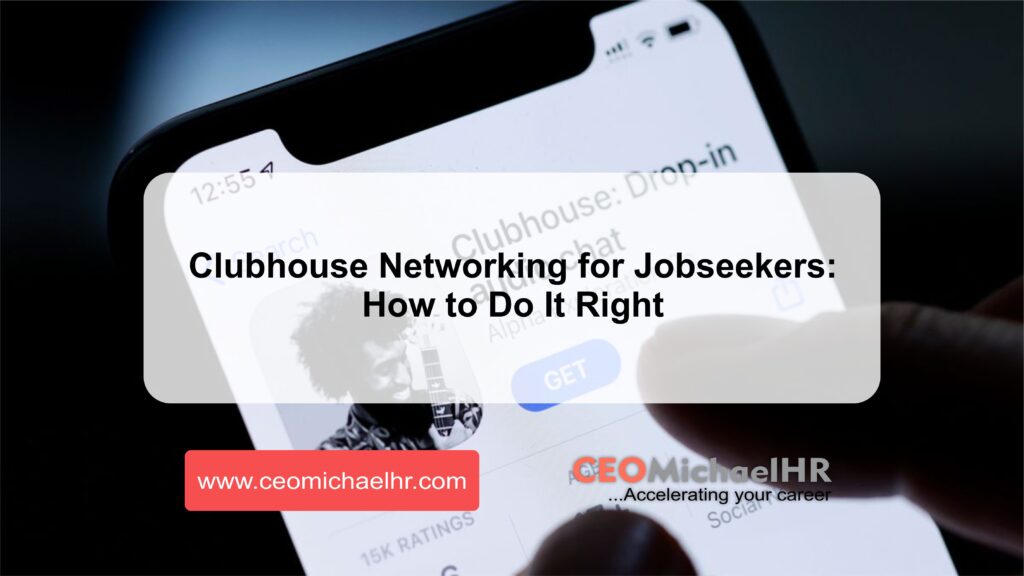 While Clubhouse can be used to pass time during boring periods, this powerful app also offers networking opportunities that can help you land your dream job effortlessly.
Follow these 5 tips below to leverage the platform and expand your network.

1. Polish and maintain a branded profile
It is of utmost importance you optimize your profile before joining or participating in rooms.
Consider the tips below to help you maintain a branded and professional Clubhouse profile:
Upload a friendly and professional photo of yourself
Keep a consistent brand by ensuring you use the same name across your resume, LinkedIn, and other social sites
Write a brief bio to explain how you intend to use Clubhouse, your career goals and what you look forward to. Ensure your expertise and experience are tailored at the top of the Bio to capture the attention of your potential recruiter. Get some inspiration by googling "Clubhouse bio examples."
Do well to link your other updated and professional social media accounts on your profile. This will help validate your Genuity. Furthermore, don't forget in include a call-to-action button to encourage new connections

2. Stay active on topics related to your career or industry
Upon joining Clubhouse, never make the mistake of selecting interests that does not resonate with you.
When you select your interests, the app gives you smart recommendations on rooms and topics that are relevant to you.
So, choosing interests around your career or industry will keep you updated on topics trending in that area.
You can significantly improve your networking opportunities when you monitor topics around your industry or career path.
Keeping tabs on industry thought leaders, recruiters, and career consultants such as CEOMichaelHR Career expert, Michael Samuel can help you know when they're joining rooms and participating in conversations of interest to you.
You might also like: LinkedIn Background Banner for 35 Different Industries

3. Be enthusiastic
Always activate an enthusiastic personality when responding or participating in Clubhouse room discussions.
To contribute to a discussion of interest to you, you simply click the "raise your hand" button.
While you can create your own event, you can also reach out to other host to request a co-host.
Always remember to stay professional as whatever you say can reflect on your overall reputation. Also, more because your aim is to use the app for networking.
You might like: 7 Tips to Make Your LinkedIn Profile Standout

4. Never Forget the Follow Up Rule After a Great Conversation
Always ensure a follow-up after a great conversation.
While there is no avenue for direct messaging on Clubhouse, you can quickly go to the person's bio and make a contact.
Once you're aligning with what an individual is saying during a room discussion, you can check out their profile or bio to see if they are someone you'll love to connect with. There will be no audio interruption while doing this.
Ensure to always send a brief, direct, and professional follow up message.
One great way to spark up their interest is to reference the value in what they were discussing that led you to contacting them.

5. Scammers are real. So, beware!
One thing you must get yourself familiarized with is that there are scammers in any digital ecosystem.
Despite the recency of the Clubhouse platform, it's no different.
Use the following tips to keep yourself safe from scammers in the Clubhouse:
Check if a person linked their twitter, LinkedIn or Instagram to their bio. Confirm that the names are consistent across all the platforms and also their followers.
Never send money or pay for anything. While the app is completely free to use, some scammers might try to lure you to pay some money to activate some features.

Rahaf Harfoush a tech and culture guru, in his article on Medium listed five questions to ask before taking advice or spending money on the Clubhouse app. They include:
1. Am I being sold an unrealistic narrative?
2. Does this person's success extend beyond selling me how-to-be-successful tools?
3. Are their credentials independently verifiable?
4. Do they use predatory sales tactics?
5. Is their business model too complex for me to understand?

While keeping the points above is critical to ensuring your safety on the Clubhouse platform, Rahaf Harfoush reminds that not everything is a scam.
These measures are only necessary to keep you safe from online scammers across all social media platforms.

Conclusion
The Clubhouse app has proven powerful for networking and also great for personal branding.
You must not follow our script verbatim, but put in the effort to develop a lasting relationship as it's not going to happen on its own. With a pinch of luck, other like-minded people will do the same to you.
CEOMichaelHR offers another free tool to help your career. Submit your resume for a free expert review and feedback on your most critical job-search tool.