LinkedIn easy apply is a great feature recommended for use when "quickly getting a high number of applications out on LinkedIn" is your top goal.
In this highly comprehensive guide, you will learn all you need to know about LinkedIn Easy Apply and whether or not it is great to facilitate your job search and land you interview faster.

This article discusses the following:
What is the LinkedIn Easy Apply tool?
The key differences between LinkedIn Apply and LinkedIn Easy Apply
The Pros & Cons of LinkedIn Easy Apply
How to use LinkedIn Easy Apply to find jobs
Proven tips for capturing a recruiter's attention when you apply for jobs on LinkedIn
When to use/not use the LinkedIn Easy Apply feature
Tips to strengthen your LinkedIn application

Want to save time and have your interview-ready resume in just 2-5 days?
Let our CEOMichaelHR affordable resume writing services take the guesswork out of resume writing by summing up and professionally showing off your industry skills and experience.

One of our clients, Ashphu, had this to say:
My resume writer Rolyns, did a great job with the format, as well as the content. He wonderfully conveyed my skills in a concise and direct manner. I started getting phone calls from potential employers almost immediately after the resume rewrite.

See more success stories



What Is LinkedIn Easy Apply?
LinkedIn Easy Apply is a one-click application plugin launched by LinkedIn in 2011 to allow job seekers easily send out applications quickly and efficiently without navigating off the LinkedIn platform.
In recent times, we estimate that around 39 -48% of listed jobs now feature the "Easy Apply" on LinkedIn based on various roles and industries.
LinkedIn Easy Apply is an awesome innovation by LinkedIn that saves a tremendous amount of time in your job search.
Compared to most job search boards, you won't need to fill in ANY personal information. You just attach your resume/CV, click submit, and that's it.
Since the launch of this amazing feature, there has been proven testimonials amongst recruiters and hiring managers on getting a consistent stream of active and passive job candidates from LinkedIn's 830 million members.
You might like: LinkedIn Background Banner for 35 Different Industries

LinkedIn Apply Vs LinkedIn Easy Apply- What's The Key Difference?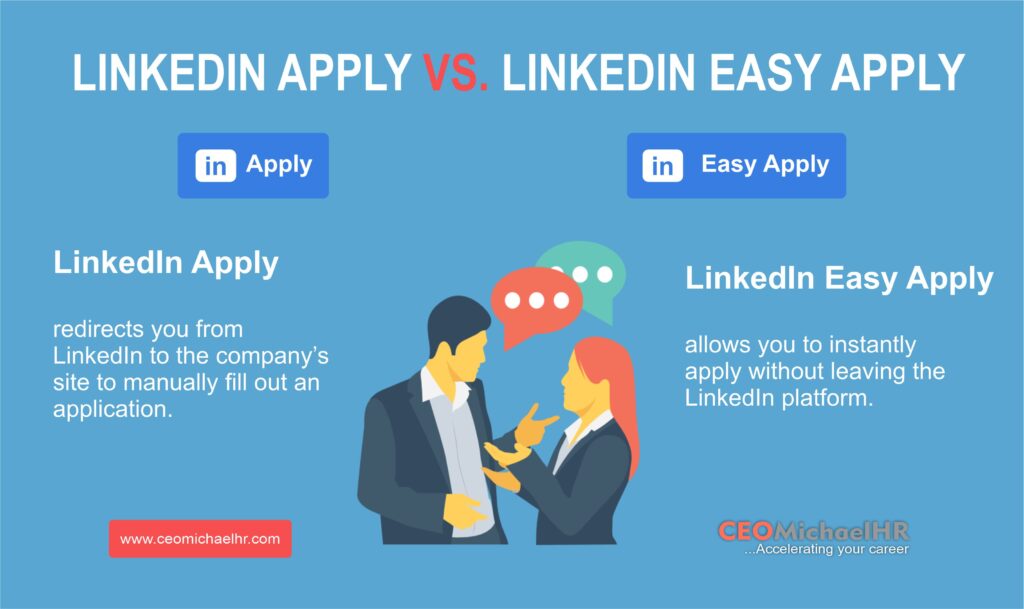 As you peruse job listings on LinkedIn, chances are you've noticed the "Apply" button on some of the listings and the "LinkedIn Easy Apply" button on others.
You may begin to wonder; what's the difference between the two?

LinkedIn Apply



The ordinary Apply button causes a redirection to the company's job site where you'll be validated by inputting required information that makes you qualified for the opened position.
Now, with the LinkedIn Apply button, you'll have to go through a rigorous manual process of submitting your applications for each job role you're targeting.
This process can be very frustrating especially if you have multitude of openings you're targeting.
You might like: Best Strategies to Contact Recruiters on LinkedIn

LinkedIn Easy Apply



When an employer allows the Easy Apply button, you can submit your job search documents, your LinkedIn profile, and everything you need to apply for the position without leaving the LinkedIn platform.
Furthermore, you can extract existing information saved on LinkedIn for the purpose of your application.

The Pros of LinkedIn Easy Apply
Are you looking for speed and efficiency when submitting applications?
If yes, then the LinkedIn "Easy Apply" is designed just for you!
With this powerful LinkedIn feature, you can seamlessly achieve the following:
Seamlessly submit applications for multiple positions without leaving the LinkedIn platform
Access the link to your target company's website and check HR posting for the job
Easily attach your optimized LinkedIn profile to any of your applications
Access target company's employees and know if they are amongst your connections or school alumni
Saves a great deal of time by eradicating tasks such as creating new accounts from scratch, filling out application forms, and uploading documents for each job application

Cons of LinkedIn Easy Apply
Just like most things in life, what has a great advantage would have some downsides.
Some of the downsides of applying for jobs on LinkedIn Easy Apply are:
There is no room for presenting references or referrals
With a highly efficient and speedy application process, it'll naturally be the go-to feature for most job applicants. This would in turn, create a fierce competition amongst applicants, making standing out from the crowd a tough one
Because LinkedIn Easy Apply utilizes existing information on your profile when submitting your application, you won't be able to customize your profile for every job you apply to. Therefore, a great deal of work must be put into optimizing your profile to stand out to recruiters upon submitting your applications
You might like: 7 Tips to Make Your LinkedIn Profile Standout

How to Use LinkedIn Easy Apply to Find Jobs
In this section, we'll discuss how you can efficiently use the LinkedIn Easy Apply button to find your dream jobs and get your information across way faster.
Follow me on this step-by-step guide:

1. Sign into your optimized LinkedIn account
Since all of the application process would be carried out on LinkedIn, you must ensure your LinkedIn account is highly optimized and ready to be perused by your potential recruiters.
Do you need assistance setting up an optimized LinkedIn profile?
If yes, our LinkedIn optimization experts are ready to assist you in tailoring a winning LinkedIn profile that drive results 3x faster.

2. Type in the search bar a job title or keywords
Type in a basic search term in the search bar at top of the screen. I recommend using position titles such as; "marketing manager" or "sales representative."

3. Narrow your search with LinkedIn's job search filters
Next, you narrow your search by location, industry, etc. with LinkedIn's job search filters to begin seeing relevant job postings in your state or city.
At this stage, you can check out a list of job openings and note the ones that interests you.
Behold! The LinkedIn Easy Apply button is a step away.

4. Notice the "Easy Apply" button on LinkedIn job postings
When activated, below is what the LinkedIn "Easy Apply" button looks like:


We already mentioned earlier that not all employers use this feature on their postings. So, you might not see it all the time.
However, most industries use this button often times.

5. Apply to as many jobs as you can
Now that you've found the "Easy Apply" button, you're all set to start putting out your applications.
Simply click on the Easy Apply button and attach a professional resume optimized for the job description.
After which you submit your info. And that's it!
Upon submitting your application, LinkedIn notifies the recruiter, and also provide you application updates when your potential recruiter views your application or downloads your resume.
You might like: Proven Ways to Land Your Dream Job Using LinkedIn

How To Quickly Capture a Recruiter's Attention When You Apply for Jobs on LinkedIn
It's no news how your application has just 6 seconds to capture the attention of any recruiter.
This is so because most recruiters have around 250 job applications for every job post.
That's so much to patiently review manually one by one.
So, to quickly grab the recruiter's attention and capture their interest, follow these simple strategies.
You might like: How to Put LinkedIn on Resume (Correctly) Examples & Guides

1. Have a great LinkedIn photo
You can easily go unnoticed and even look unserious when you have no profile photo uploaded on your LinkedIn account.
Ensure the photo is of high quality and professional.

2. Tailor a powerful LinkedIn headline
Your LinkedIn headline is an essential aspect of your profile you must pay keen attention to.
While LinkedIn by default creates your headline based on your current job role and company, you can stand out from the crowd by tailoring a custom headline that describe your values and what you can offer the company.

3. Align your location and industry
The idea here is to ensure that your location synchronizes with where the industry you are targeting is located.
Think about where you're trying to take your career rather than where it's historically been.

4. Match your LinkedIn profile with your target role
We recommend using the LinkedIn feature "View criteria match" to see a breakdown of how well your profile aligns with the job description.
When entering your skills into the "skills and endorsement" profile section, ensure you use keywords from the job description as recruiters can sort their preferred candidates by Match Score, which appears to be dependent on job title match, experience level, location, and industry.
While optimizing your LinkedIn profile, it is essential you use keywords that matches your target job description.

When to Use LinkedIn Easy Apply
Consider the following tips to know when it's appropriate to apply for jobs using the LinkedIn Easy Apply feature:
When you're trying to play the game of numbers by sending your applications to a large pool of recruiters
When your LinkedIn account is well optimized targeting the job you're applying
When time is not at your disposal, and looking to achieve more within a shorter time span
When the jobs you're targeting do not require specialized skill
When your resume is targeted to each job description
When you are specifically instructed to apply using the "Easy Apply" button from the job description

When Not to Use the LinkedIn Easy Apply
While there are times appropriate for the use of this great LinkedIn feature, there are also times considered inappropriate to use.
Consider the following tips to know when it's inappropriate to apply for jobs using the LinkedIn Easy Apply feature:
Using the Easy Apply option is not best to make you stand out when applying for your dream job. You'd rather take the time to tailor a custom resume, cover letter, and LinkedIn profile targeting the specific role and matching the job description.
Don't use the Easy Apply option when showcasing your unique skillset and personal values is your key focus
Never use this feature is you have a cookie cutter and unprofessional LinkedIn profile
When you have employment gaps, the Easy Apply option won't give you the opportunity to explain your experience gaps and convince recruiters you can handle the role effectively
When you are transitioning careers or industry, using the Easy Apply option may not be the best as you'll not have enough room to pitch and convince recruiters why you are the best candidate for the position

You might like: How To Get Endorsements On LinkedIn (5 Examples Included)

Strengthen Your Application Through LinkedIn Easy Apply Using the Following Tips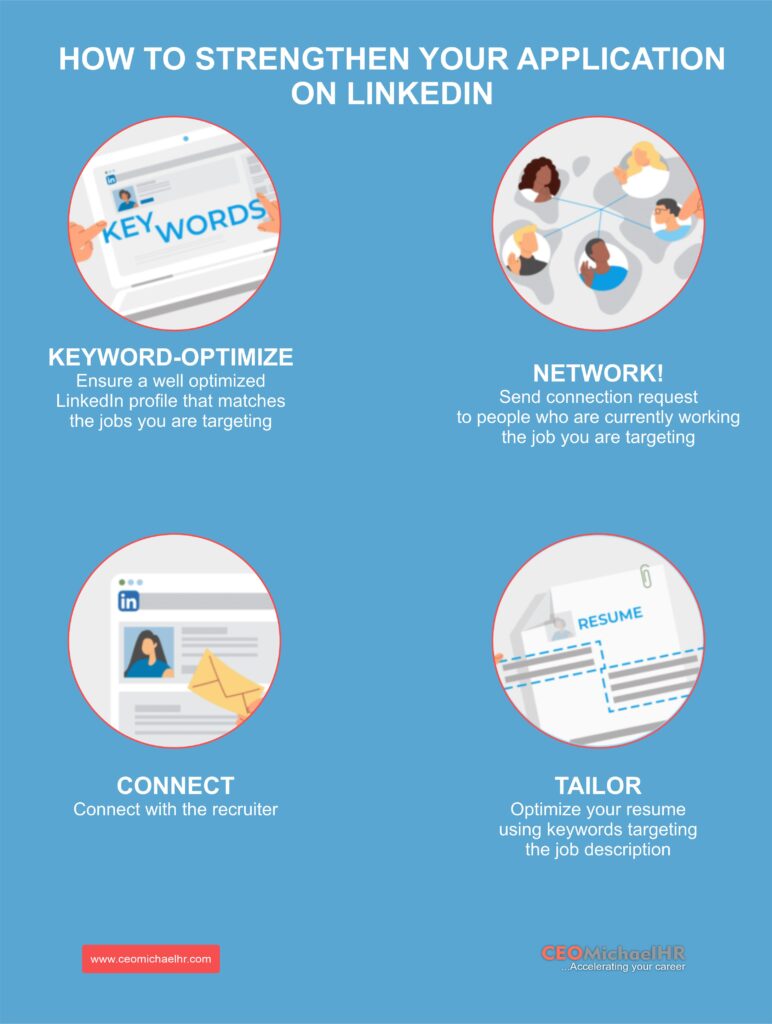 While the LinkedIn Easy Apply feature has proven to be a great tool for many jobseekers, it'll be even greater and facilitate landing your dream job if you combine its use with a well optimized LinkedIn profile.
Consider the following tips to strengthen your application so you can seamlessly stand out from the crowd.
1. Ensure a well optimized LinkedIn profile that matches the jobs you are targeting
2. Send connection request to people who are currently working the job you are targeting
3. Connect with the recruiter
4. Optimize your resume using keywords targeting the job description

Frequently Asked Questions

Is the LinkedIn Easy Apply button not considered spam when used multiple times?
Once you're qualified for the job, no company cares if you submit several applications within an hour or less of your time.
Besides, each company is receiving one single application from you. Therefore, it's not considered spam.

Does LinkedIn Easy Apply work?
Absolutely! The LinkedIn Easy Apply feature works perfectly.
Majority of the jobs posted by recruiters on LinkedIn have this feature to make it easier for them to get leads.
As a matter of fact, research shows that 6 people get hired on LinkedIn every 60 seconds.

Do recruiters get notified when you submit your application via LinkedIn Easy Apply?
Yes. LinkedIn immediately notifies your potential recruiter when you submit your application.

Does LinkedIn update me on the status of my application?
Two scenarios where LinkedIn sends you updates or notifications are:
When your potential recruiter opens your application
When your potential recruiter downloads your attached resume

How does LinkedIn Easy Apply make your application more efficient?
Your life gets easier when you use the LinkedIn Easy Apply tool in ways including:
Streamlining the application process and allowing you to apply to multiple job posts without leaving LinkedIn
Saving your answers from previous applications and allowing you to reuse your uploaded resume and some other information for your future applications

Conclusion
To land one single job offer, you must have submitted at least 100 to 200 applications by manually filling out information and creating new accounts.
This alone can make your job search physically and emotionally draining.
The worst part is that after going through this whole stress for each job application, there is no guarantee you'll hear back from the recruiter.
Fortunately, LinkedIn launched the LinkedIn Easy Apply tool that makes your life easier by simplifying the job application process and allowing you submit applications easily and quickly without leaving the LinkedIn platform.
With this powerful feature, you can cast a wider net in your job search.
CEOMichaelHR's LinkedIn Optimization service analyzes your LinkedIn profile, check if it's optimized for the jobs you are targeting, and provides you the best optimization that'll stand you out from the competition.
Save your time and take off the guesswork by using our LinkedIn Optimization Service today!