The question of "how many jobs are available in marine transportation" has tremendously increased among job seekers due to the booming trend of maritime industry in the United States.
Marine transportation industry encompasses everything from deckhands to captains, and can be a highly rewarding career choice if you have the necessary qualifications and skills required to land roles within the sector.
The great news is that this industry amasses plenty of career options for job seekers interested in a career that is exciting with many opportunities for growth.
In this guide, we'll discuss critical topics that'll improve your knowledge and get you set for a great career in the Marine Transportation industry.
We'll look into the following:
All you need to know about careers in the marine transportation industry
How many jobs are available in marine transportation?
The various types of jobs available in marine transportation
All critical aspects of joining marine transportation as a career choice

Want to save time and impress recruiters in the marine transportation industry?
Let our CEOMichaelHR affordable resume service build you a branded and powerful resume that land interviews 3X faster.

One of our clients, Ashphu, had this to say:
My resume writer Rolyns, did a great job with the format, as well as the content. He wonderfully conveyed my skills in a concise and direct manner. I started getting phone calls from potential employers almost immediately after the resume rewrite.

See more success stories




What is Marine Transportation?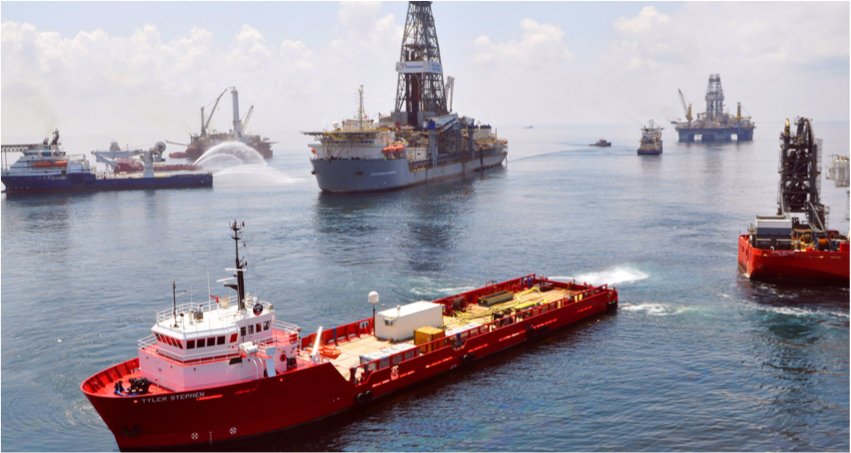 Maritime transportation involves the movement of passengers and freight over water masses, from oceans to rivers.
Maritime transportation provides people an alternative means of transportation in some congested regions and may offer the only method to get to work in certain Northeast Island and coastal communities.
This mode of transportation is usually utilized to move cargo between different countries and is often less expensive than other forms of transportation.
In total, maritime transportation contributes $5.4 billion to the regional economy as well as providing over 37,000 jobs.
While the maritime transportation industry has a lot of advantages, one significant disadvantage of this mode of transportation is that it can be negatively impacted by climate conditions, which can lead to a delay or even shipments cancellation.
In all, maritime transportation has over the centuries proven to be a generally safe, cost-effective, and reliable mode of transporting people from one place to another.
The marine transportation industry is a very important part of the United States economy and will continually play relevant even in years to come.
You might like: How Many Jobs are Available in Public Utilities?

Marine Transportation System (MTS) in the U.S
The America's Marine Transportation System also referred to as MTS, is expansive.
It's made up of waterways, ports and land-side connections, moving people and goods to and from the water.
In summary, the MTS includes approximately 25,000 miles of navigable channels, 250 locks, 3,500 marine terminals, multitude of recreational marinas, and the Great Lakes and St. Lawrence Seaway.
Coordinating with the above elements are approximately:
174,000 miles of rail connecting all 48 contiguous States, Canada and Mexico
45,000 miles of interstate highway and 115,000 miles of supporting roadways
1,400 designated intermodal connections

In addition, the United States maritime has over 95,471 miles of coastline and more than 30,000 miles of navigable inland waterways.
The US marine transportation powers our economy by ensuring easy transportation of goods and people to and from the U.S ports.
The marine transportation sector has enormous career options and employment opportunities.
Licensed Mariners can find job opportunities on cargo ships, passenger vessels, tugs and towboats.
You can also find many opportunities in naval architecture and marine engineering.
You might like: How Many Jobs are Available in Consumer Durables?

How Many Jobs Are Available in Marine Transportation?

The maritime transportation industry is an essential aspect of the US economy since it ensures movement of goods and people all around the world.
The marine transportation industry now has over 8,400 open positions as of September 2022, and rapid development as a direct result of the rising demand for marine services.
The career options for people looking to launch their careers in this industry continues to peak high.
You might like: How Many Jobs are Available in Real Estate Investment Trusts?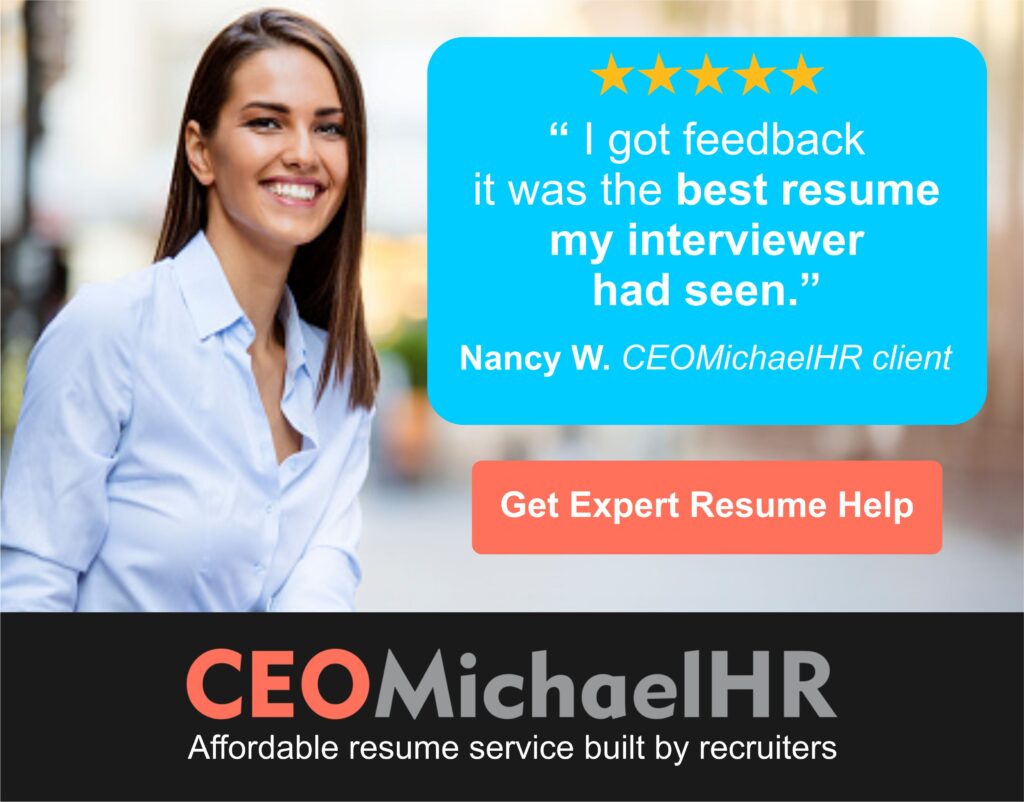 What Jobs Are Available in Marine Transportation?
The marine transportation industry offers a vast range of employment opportunities and exciting careers that enjoys high wages, adventure, fun, and satisfaction.
The most in demand jobs in this industry includes naval architecture, marine and ocean engineering, ship and boat building, electricians and pipefitters, welders, and mechanical engineers.
While most maritime careers involve working on ships, there are also many land-based jobs.
Let's learn a bit more about these roles.

1. Maritime Pilot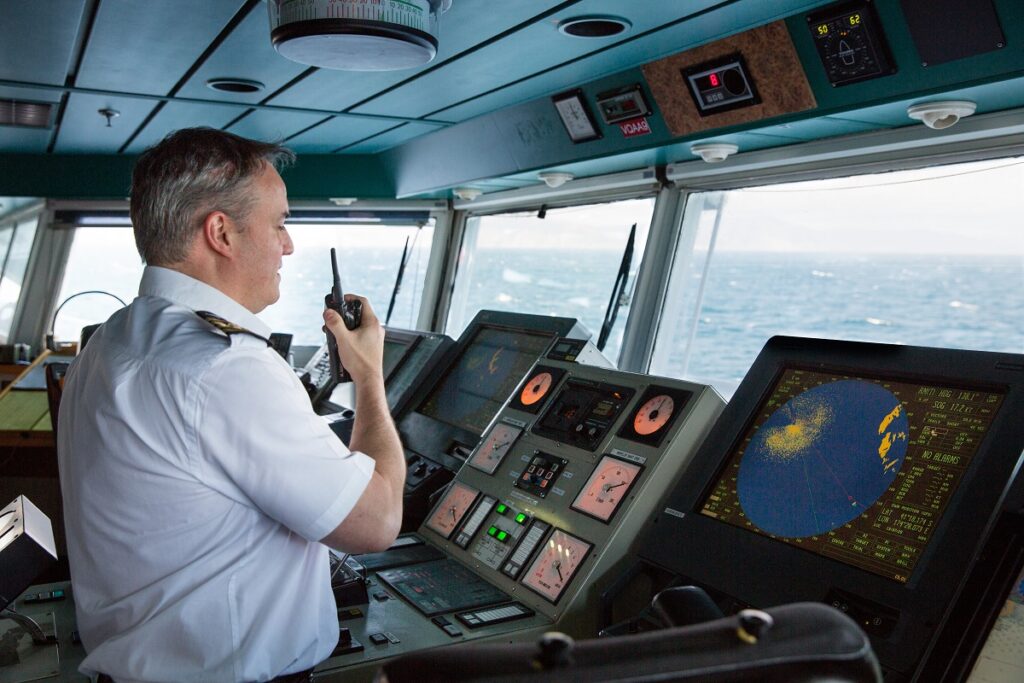 While captains are in-charge of ships, the role of a maritime pilot is equally important. The maritime pilots help in maneuvering ships while arriving or departing a port.
The ship's captain may handle the job of navigating the ship in the water. However, when the situation gets risky or there is any situation which demands greater skill in the maneuvering of the ship, the pilot acts as the person who advises the captain what route to take and what changes need to be made during ship's routine maneuvering while entering or leaving a port.
To become a maritime pilot, you must get a pilot license specific to the area where you usually work.

2. Maritime Lawyer
Maritime Lawyers advise clients on legal issues and disputes under marine law, draft legal documents, and represent clients in legal proceedings.
These legal professionals must always apply adept knowledge and skills in maritime services to solve issues and problems at work.
To become a Maritime Lawyer, you must be able to interpret international legislation that governs the different aspects of the maritime industry.
You must also demonstrate effective communication with people from all backgrounds, including those with basic or little knowledge of the law.

3. Ship Captain
A ship captain is in command of water vessels in lakes, oceans, coastal waters, rivers, or bays.
These professionals ensure the safe and efficient operations of vessels, navigates their vessel according to weather conditions and uses radar, depth finders, radios, buoys, lights, and even lighthouses.
Ship captain determines sufficient levels of oxygen, hydraulic fluid, or air pressure of the vessel.
To land roles in the marine transportation industry as a ship captain, you must possess the required qualifications and also comply with regulations set by governing bodies such as the International Maritime Organization (IMO).

4. Deck Hand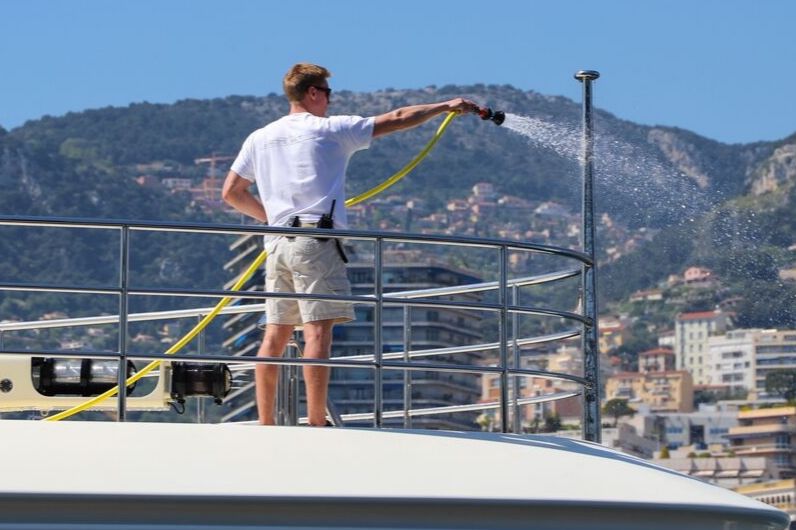 The deckhand's responsibilities in the marine transportation industry include loading and unloading cargo or luggage, relaying important information to the crew, maintaining ship equipment, assisting with watchkeeping duties, and ensuring the general upkeep of the vessel.
These professionals must be able to work quickly and accurately under pressure, often in difficult and dangerous conditions.
Deckhands must have excellent manual dexterity, be physically fit, and able to lift heavy objects.
They must also demonstrate strong knowledge about the types of cargo they are handling and standards of operation.

5. Marine Engineer
A marine engineer works in researching, developing, and constructing new marine vessels and their component parts.
This includes creating blueprints, designing engines and propulsion systems, testing prototypes, and supervising the construction of full-sized ships.
There are several different engineering roles in this field, from naval architects who design ships to marine engineers who work on engines and propulsion systems.
To land role as a marine engineer in the marine transportation industry, you must have a strong understanding of fluid mechanics, shipbuilding principles, and maritime law.
You might like: 32 Best Paying Jobs in Finance Consumer Services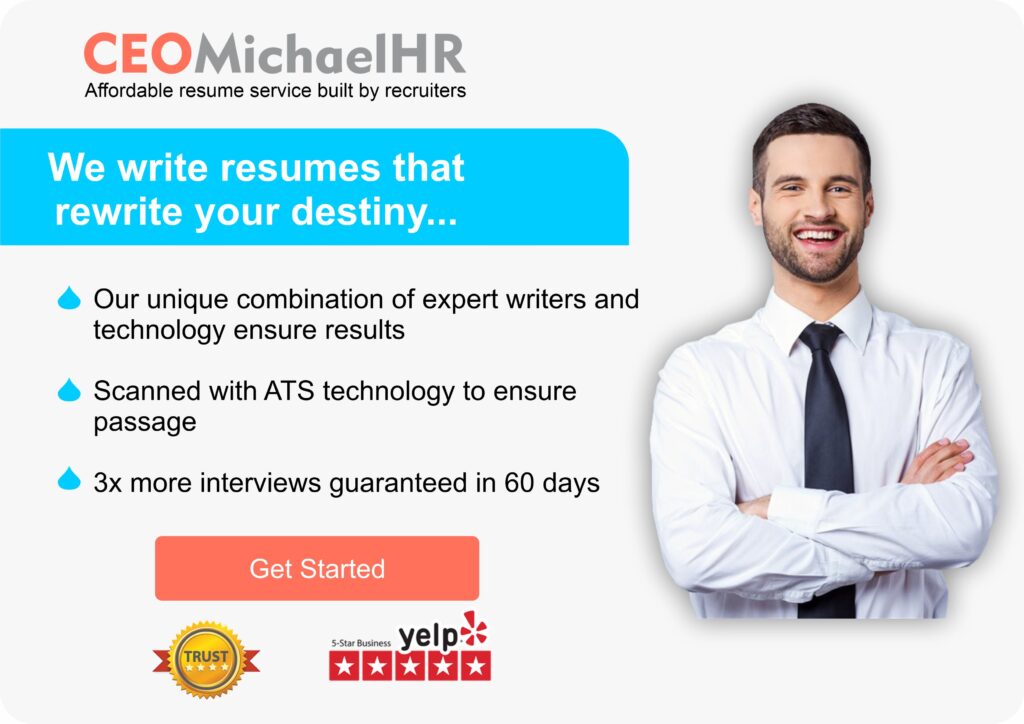 How do I Become a Marine Transportation Worker?
If you are a jobseeker searching for a highly rewarding career with a stable job growth, you can be confident that the marine transportation industry got you all covered.
This industry houses many of the high paying and in demand job roles from captains and pilots to deckhands and engineers.
The question now is how do you become a marine transportation worker? Let's find out.
While certain positions in the marine transportation industry may require advanced education and experience, to land roles within this sector, you must at least possess a high school diploma or equivalent.
For instance, to land a role as a Pilot, you must possess a bachelor's degree in marine science or engineering, while captains need several years of experience sailing merchant ships.
Upon graduation from high school or equivalent, you can begin your search for a job in the maritime industry.
Job searching can be done via attending career fairs or via searching online job boards.
You may also choose to visit local shipping companies to inquire about open positions or check the International Maritime Organization for career opportunities.

Marine Transportation Worker Job Outlook
The marine transportation worker job outlook seems very impressing.
According to report from the Bureau of Labor Statistics (BLS), employment for water transportation workers is expected to grow by 12% from 2016 to 2026, faster than the average for all occupations.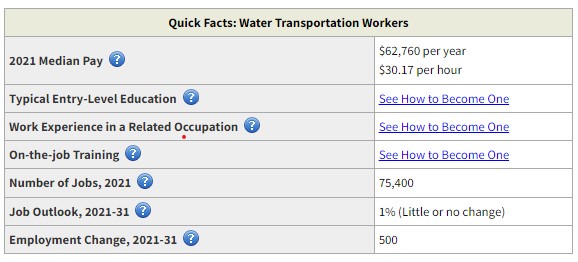 Career opportunities within this field are often located in coastal regions, which can be quite dangerous.
However, the BLS advises individuals interested in this industry to be prepared for long hours and hazardous working conditions.
You might like: How Many Jobs are Available in Consumer Non-durables?

4 Things to Know Before Choosing Marine Transportation as a Career
With many opportunities comes plenty of challenges. If you look forward to pursuing a career in marine transportation, you must be willing to work hard and constantly learn new things.
Before pursuing a career in such an industry as marine transportation, it is essential to put into consideration several things such as the required skills and what it takes to succeed.
You might find it difficult to shine in the marine transportation industry if you lack the necessary information you need to soar.
Find below some of the thing you need to know before pursuing a career in this industry.
1. Take some quality time to critically evaluate your career goals and exactly what you expect the outcome of your decision to be.
Once you come to terms with what you want, the right solution is not farfetched.
2. Conduct extensive research to gather as much information as you can within the marine transportation industry.
Note that the more information you are disposed to, the more informed your decision would be.
3. Examine the advantages and disadvantages of each position based on your career goals and interests. With this approach, you can easily identify which role would be best for you.
4. Never be afraid to seek help when you need it. When you have a consultation with experts in the marine transportation industry, you'll find how easy confusing situations can be simplified.
You might like: 40+ Best Paying Jobs in Business Services

Career Forecast for Marine Transportation Worker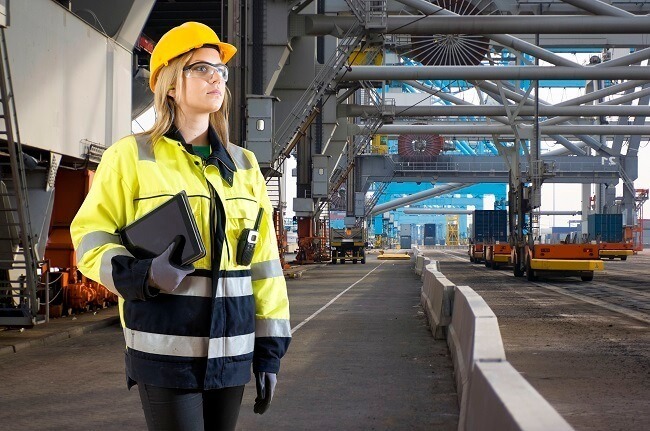 Marine transportation has become a booming career path over the last decade. The demand for marine transportation services continues to increase due to the rise in global trade.
Marine transportation workers who operate and maintain the ships are critical to the success of this industry, and the future looks really bright for them.
The efficiency and demand for marine transportation workers is directly proportional to the evolution in technology.
As technology continues to advance, and the economy keeps waxing strong, the future looks bright for marine transportation workers.

Salary Outlook of a Marine Transportation Worker
According to report from salary.com, Marine Transport pays an average salary of $535,590 and salaries range from a low of $466,855 to a high of $612,802.
While the marine transportation worker typically has an annual average salary of $62,760, individual salaries will, of course, vary depending on the job, department, location, as well as the individual skills and education of each employee.

Qualifications Needed to Become a Marine Transportation Worker
Education and training requirements vary by the type of job. There are however, no educational requirements for entry-level sailors and marine oilers, but other types of marine transportation workers typically complete U.S. Coast Guard-approved training programs.
All marine transportation workers working on ships with U.S. flags must have a Transportation Worker Identification Credential (TWIC) from the Transportation Security Administration stating that a person is a U.S. citizen or permanent resident and has passed a security screening.
Mariners who work on ships traveling on the open ocean must possess the Standards of Training, Certification, and Watchkeeping (STWC) endorsement.
While entry-level employees, such as ordinary seamen or wipers, do not have to pass a written exam, most mariners must have a Merchant Mariner Credential (MMC), which they can apply for at a U.S. Coast Guard regional examination center.
Finally, Pilots are licensed by the state in which they work. The U.S. Coast Guard licenses pilots on the Great Lakes, and the prerequisites for these licenses vary, depending on where a pilot works.
With the right combination of experience and training, you can move up through the ranks to become a captain, pilot, or other top-level positions in the marine transportation industry.
You might like: Top 6 High Income Skills That Will Make You Money

Conclusion
As the maritime cargo volumes and global trade growth continues to expand, so is the demand for marine transportation workers.
Maritime transport is a critical aspect of the global economy, and responsible for shipping trillions of dollars' worth of goods annually.
Career opportunities in the marine transportation industry are available to jobseekers with various skillsets and backgrounds.
Finally, if you are willing to learn and work hard, a career in marine transportation can be very rewarding.
With so many opportunities for career growth, potential to earn high salary, and numerous job roles available, you can be confident to find that perfect job that matches your interest.
Best wishes with your Job-search.

WRITTEN BY
CEOMichaelHR is made up of professional resume writers and career experts with backgrounds in HR, recruiting, career coaching, and job placement.
Is your resume getting ignored?
Land 3x as many interviews with a professional resume overhaul by one of our certified senior writers today.