In the events management industry, there are too many hats to wear; in other words, too many activities demanding your attention which can simultaneously lead to cognitive overload and stress.
With all the stress involved in this highly demanding job, great event planners can make it look like a cakewalk due to their substantial years of industry experience.
Be it a pop-up foodie event or a large-scale music concert, event management skills are key to running an event, regardless of size.
Now, more than ever, it's a good idea to identify and develop your event management skills to be on top of your game in this highly competitive and fast-paced industry.
Are you having a burning passion for growth in the event management field?
If yes, we present below our top 10 event management skills you must possess and tips on how to develop each.
You might like: 15 Key Skills To Put On a Resume Right Away

1. Communication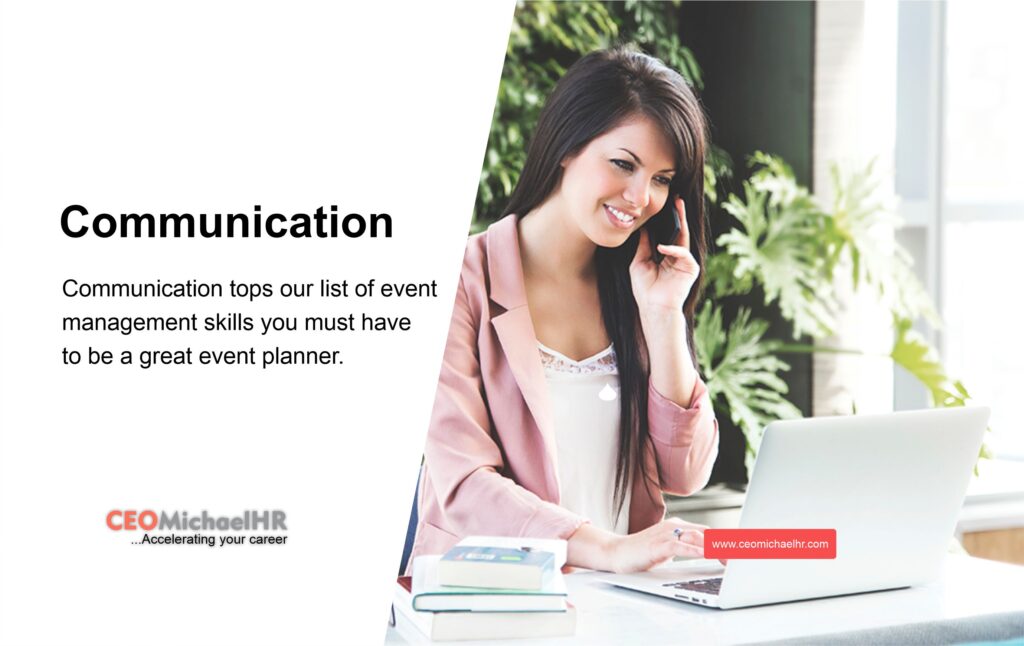 Communication tops our list of event management skills you must have to be a great event planner.
Communication skill helps you easily interact and build rapport in a limited time frame.
Event planners with strong interpersonal skills are confident when conversing with C-suite executives, event attendees, donors, brand sponsors, and vendors.
Strong interpersonal skills are non-negotiable to have. This skill will facilitate project understanding between team members and ensure things run seamlessly without glitches.
While it could be a lifelong pursuit to master the whole scope of communication, here are four essential areas you should focus on:
Assertiveness
Oral communication
Active listening
Good questioning

2. Organizational Skills
Possessing strong organizational skills in the event management industry is a no-brainer.
This skill helps you to effectively multi-task, juggle multiple projects at once, adhere to timelines, budgets, and appointments, and keep important documents and information organized.
High-performing event managers have detailed planning documentation, step-by-step checklists, and handy software tools to help them organize an event.
The best event managers focus on the big picture while keeping track of the smallest details.
They demonstrate sharp organizational skills and attention to detail – from planning to post-event analysis to executing a great event.
These professionals can accurately recall the details of last event minutest with a big smile.
To develop your organizational skills in event management, focus on the following:
Goal setting
Project management
Resource planning

You might like: Top Transferable Skills- 45+ Examples for a Resume

3. Creativity


Maya Angelou said, and I quote, "You can't use up creativity. The more you use, the more you have."
Event management goes beyond just making a to-do list of activities.
Working as an event manager demands that your creativity evolves your vision into reality.
While many think the contrary, creativity is one of the top essential event management skills.
This skill is required to infuse authenticity and passion into each event.
Here is an instance, you can be creative with the event theme, choose a unique venue or have a motivational speaker.
High-performing event managers may seek inspiration from online blogs, social media channels, or an influencer for some creative ideas.
Advance your creative inspiration by consciously focusing:
Curiosity
Experimentation
Divergent thinking
Brainstorming

4. Risk Management
Risk management is an active effort to reduce and eliminate an event's associated risks, while taking steps to prepare for those risks.
For events management, risks can include equipment/tech failure, medical emergencies, security incidents, crowd management issues, etc.
Consider the following to help you manage risk in your event:
Risk assessment
Regulation rigor

You might like: 15 Key Strengths to Put on a Resume

5. Contingency Planning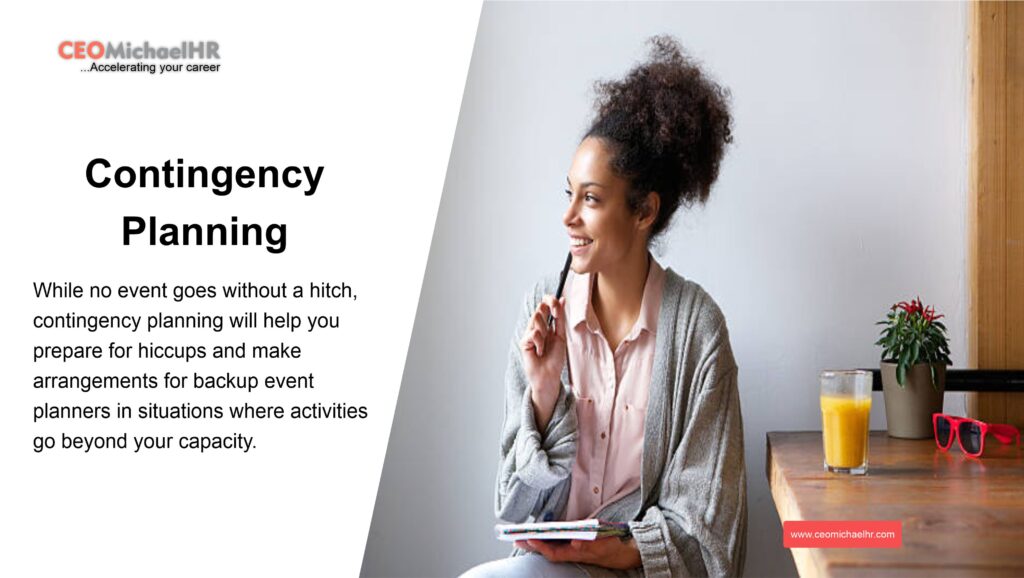 While no event goes without a hitch, contingency planning will help you prepare for hiccups and make arrangements for backup event planners in situations where activities go beyond your capacity.
You must demonstrate the ability to respond quickly if a crisis does occur.
You can improve your response by ensuring you resolve all the wrinkles at the pre-planning stage and by constantly trying to poke holes in your plans.
Consider the following to help you in creating a good contingency plan:
Attention to detail
Response planning

You might like: How to Prepare for A Career or Job Fair

6. Stress Management
You can't ignore stress management as an essential event management skill for event planners.
Event management is undoubtedly a high-pressure job—the competition, travel, and the environment of chaos all contribute to it.
Possessing stress management skills helps you reduce event planning stress and boost productivity by prioritizing your health​​ meditation, ensuring healthy eating, and routine physical exercise.
To ensure you can do your job well, you must invest in your well-being and start doing these things:
Take care of physical and mental health
Know when to seek professional help

7. Leadership
Possessing leadership skills as an event planner helps you communicate the event goal as an inspiring vision and overarching mission the event aims to accomplish.
This skill will help inspire a strong belief and passion for that mission among all team members, conveying their unique role to play.
Consider the following leadership skills especially important for event planners:
Strategic thinking
Vision development & communication
People management
Change management

8. Negotiation
Negotiation as one of the event management skills is vital for an event's success. This skill enables organizers to improve their return on investment.
Negotiation is also one of the most valued skills an event planner must have.
Indeed, it helps organizers to keep events within budget and get better value for money when dealing with partners and stakeholders.
Consider the following tips to make you a better negotiator:
Building rapport
Persuasion
Influencing
Conflict resolution

You might like: How to Write the Perfect Goodbye Email to Coworkers & Clients

9. Prioritization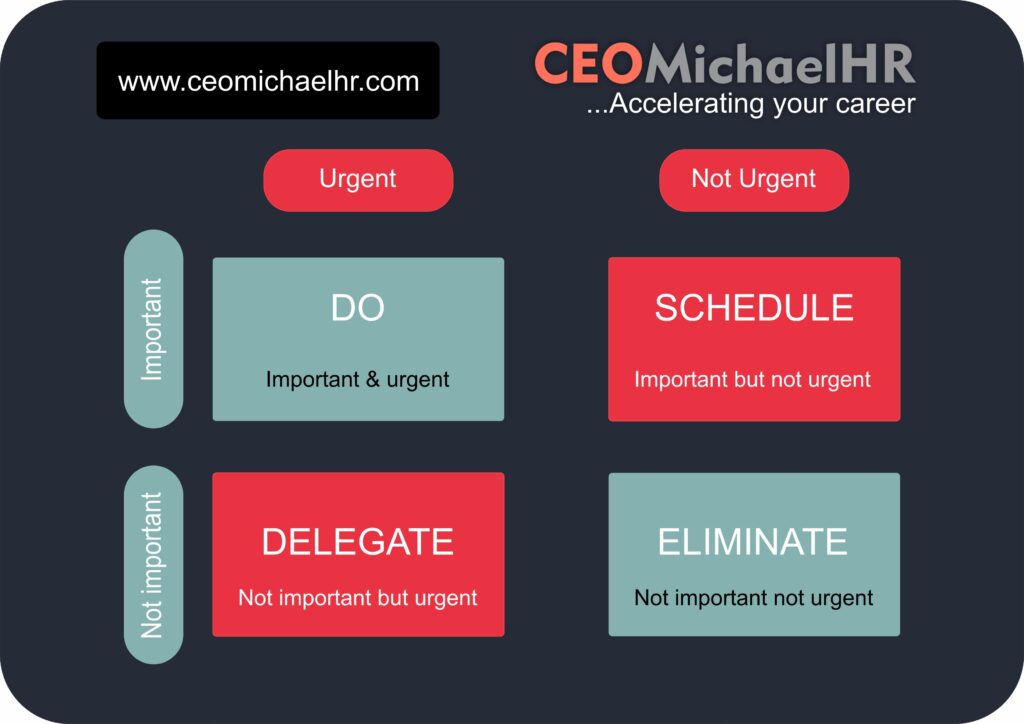 Mark Twain stated, "If it's your job to eat a frog, it's best to do it first thing in the morning. And if it's your job to eat two frogs, it's best to eat the biggest one first."
Event planners wear many hats, and no two events are the same. This means that successful event planners must develop strong prioritization skills.
Prioritization determines the importance and urgency of a task, thing, or event.
Thoughtful prioritization typically involves creating a plan, evaluating tasks, and allocating time and work to bring the most value within a specified time frame.
Scale your prioritization skill by learning the art of:

10. Time Management Skills in Events
Time management skills in events are the last but not the least of our top 10 event management skills for event planners.
The best event planners demonstrate outstanding time management skills to allow them to do more in less time, reduce stress, and contribute to the overall event's success.
Treat your event as a project.
Before throwing yourself headlong into your next event, it is essential to take some time to create a schedule.
Consider the following tips to help you identify red-flag activities that hinder productivity, and your maximum performance:
Distraction management
Systems thinking
Process design
Boundary setting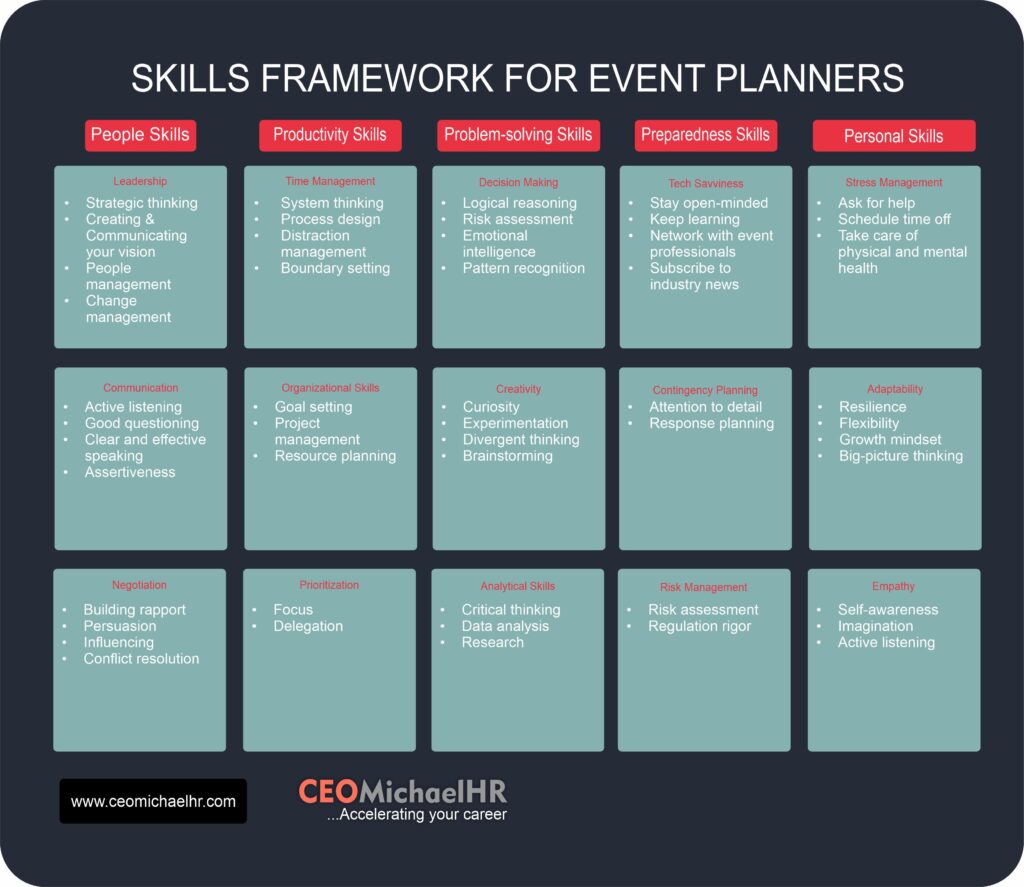 Conclusion
Demonstrating and showcasing these event management skills on your resume will undoubtedly set you up for success.
Do you possess most of these event-planning skills?
If yes, chances are you'll do a great job as an event planner.
However, if not, you can still become a successful event professional since most of these can be developed through determination and willingness to learn.
You only have to be intentional about learning and improving with each event.
High-performing event planners are constantly learning, iterating, and reinventing themselves.
When you prioritize your professional development, you will be able to do the same.
Ready to level up your resume as an event professional?
Let our CEOMichaelHR certified resume writers take the guesswork out of resume writing by summing up and showing off your event management skills and experience.