In recent times, Information Technology has become an industry growing at a fast pace, and recruiting talented candidates in this field can be challenging, expensive, and sometimes frustrating.
The technicalities in finding the right IT candidate to fill relevant open positions have made contracting good IT staffing agencies necessary.
In this article, we will discuss in detail:
What IT staffing agencies are
The best IT staffing agencies in 2022
Reasons why your company should hire the services of an IT staffing agency
The most in-demand jobs in the IT industry
How IT staffing agencies are paid
What to look out for in an IT staffing agency

Want to save time and have your interview-ready resume in just 2-5 days?
Let our CEOMichaelHR certified resume writers take the guesswork out of resume writing by summing up and showing off your metric skills and experience.

One of our clients, Ashphu, had this to say:
My resume writer Rolyns, did a great job with the format, as well as the content. He wonderfully conveyed my career story in a concise and direct manner. I started getting phone calls from potential employers almost immediately after the resume rewrite.

See more success stories



What are IT Staffing Agencies?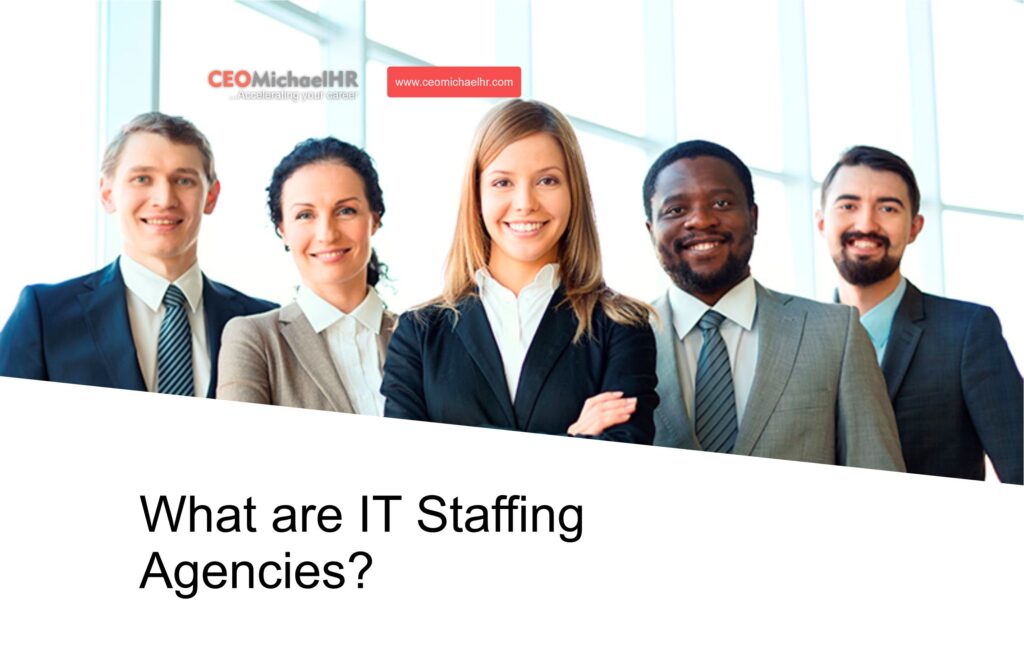 Like any other staffing agency, IT staffing agencies serve as intermediaries between employers and prospective job seekers.
These agencies eradicate bottlenecks and make the hiring process seamless.
IT staffing agencies are recruiting bodies connecting talented applicants with reputable companies to fill relevant open IT & Tech positions.
This means they search for potential candidates, conduct background checks, verify their relevant skills, and recruit qualified candidates to fill vacant roles according to the company's specifications that contracted them.
Companies in need of IT professionals can hire the services of reputable IT staffing agencies to avoid bad hires.
By doing this, companies can minimize recruiting costs and get the best candidate since the staffing agency contracted is responsible for searching for relevant talented professionals and conducting necessary background checks on the candidate before hiring them.
IT staffing agencies can help companies hire on contract, temporary, or permanent positions.
They can also finalize the recruiting procedures on behalf of the company or sort the right candidate, then allow the company to make the hiring decision.
Whether as a business owner looking for the right IT talents to fill in open positions in your company or as a job seeker in the IT industry searching for a reliable IT company to showcase your abilities, connecting with the right IT staffing agency can help you find the right employer or candidate faster than any job board.
Additionally, the stress and cost involved will also be minimized.
You might like: List of Top U.S. Recruiting Firms and Staffing Agencies

10 Best IT Staffing Agencies in the US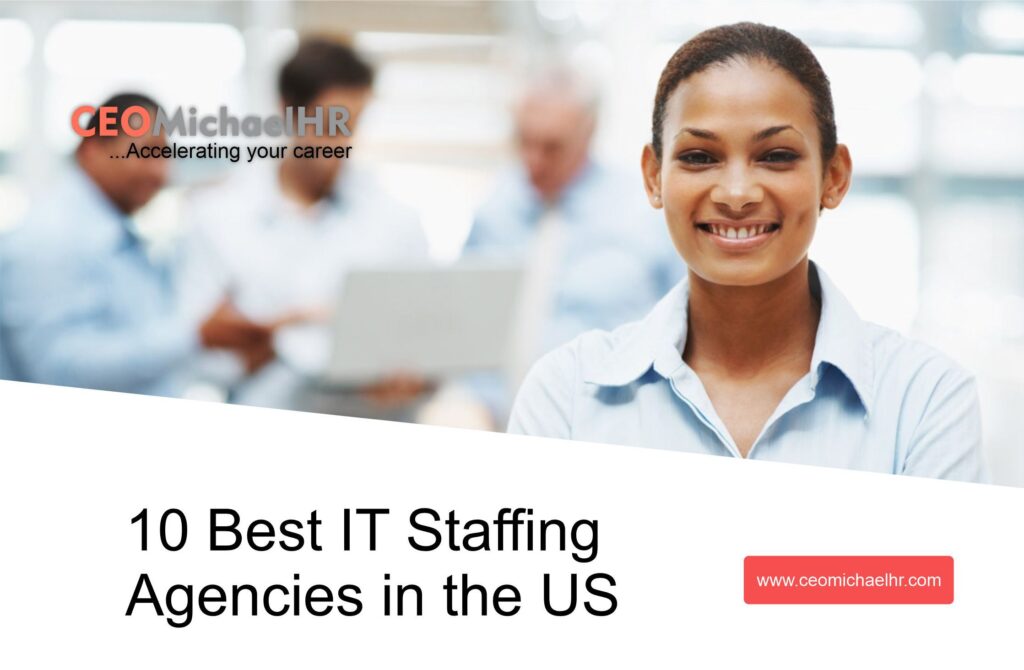 The United States- the world home of big tech companies and IT talents, houses over 15,000 IT staffing agencies.
Here comes the big question: how do you find the best IT staffing agency to help fish out the right talents needed in your company or for your project?
Out of thousands of the IT staffing agencies in the United States, we have shortlisted in this section the 10 most significant and best IT & Tech staffing agencies in the US to help you in your recruitment process and minimize the possibility of a bad hire.
In no particular order, check out our list of the best IT staffing agencies in the US:

1. Toptal
Toptal is a globally recognized IT staffing agency Taso Du Val founded in 2010.
The idea behind the company was initially a freelance talent pool that provided the services of only tech gurus.
Still, as time passed, it expanded to include finance experts, design & creative experts, and more.
Toptal is known for its proficiency in delivering the best candidates that perfectly match clients' project needs or company's specifications.
All their applicants are tested and vetted before approving for contract roles ranging from hourly to full-time.
Toptal is the world's largest fully remote company with employees ranging from 1000-10000 worldwide. They support structures that boost innovation, social interaction, and fun combined with the best elements of virtual staff.
Toptal, with its high hiring success rate, specializes in IT placements for some high-profile brands globally.
They are reliable, and you can be guaranteed to get the best in your next important project when you hire them.
GENERAL SCORE: 83%
BRAND RECOGNITION: 73%
REPUTATION: 94%
INFLUENCE & LEADERSHIP: 76%
SITE EXPERIENCE: 89%
You might like: Top San Francisco Recruiting Firms and Staffing Agencies

2. Robert Half
Robert Half is a very high profile and well-known IT Staffing agency with 70+ years of proven track record.
Bob and Maxine Half founded this company in 1948.
So far, it has gained recognition as Fortune's most admired company for 23 consecutive years.
Over the years, Robert Half has become one of the most sorts after IT staffing agencies because of its proficiency in delivering great talents to its clients and its well-trained recruiters that are experts in their field.
It has offices scattered across the globe and internal staff across more than 300+ locations.
They are equipped with high-profiled and talented resources for staffing data specialization in Finance, IT,Legal, Administration, and more with over 1300+ IT job openings available on their website.
They also assist applicants in finding job opportunities in companies they can fit in and thrive.
GENERAL SCORE: 78%
BRAND RECOGNITION: 92%
REPUTATION: 79%
INFLUENCE & LEADERSHIP: 85%
SITE EXPERIENCE: 49%
You might like: 10 Best Engineering Staffing Agencies In America

3. Adecco
Adecco is the world's second-largest and most popular human resource and staffing agency.
It is a Fortune 500 company with many offices throughout the United States.
This agency is an industry leader in the human resource field.
It has efficient IT professionals who partner with small businesses, large and high-profile companies and provide profound solutions for staffing requirements.
With more than 50 years of experience in staffing and recruitment, Adecco provides talented professionals for temporary and direct hire positions in IT sectors, including accounting, marketing, hospitality, customer service, retail, administrative, manufacturing, and more.
Adecco has 5,200 branches in over 60 countries and territories and provides over 3 million jobs.
GENERAL SCORE: 77%
BRAND RECOGNITION: 85%
REPUTATION: 77%
INFLUENCE & LEADERSHIP: 66%
SITE EXPERIENCE: 81%
You might like: 32 Best Paying Jobs in Finance Consumer Services

4. TEKSystems
TEKsystems is a subsidiary of Allegis, founded in 1983, with more than 100 locations throughout North America, Europe, and Asia.
TEKsystems has an 80000+ strong team working with 6,000+ clients, including up to 80% of the Fortune 500 across the globe providing solutions to complex IT & Tech, business, and staffing issues that bring about change.
It is a great IT staffing agency known for staffing Topnotch IT professionals in the USA. They also strongly understand AI technology, Blockchain, and internet security.
TEKSystems are not only experts in staffing IT talents but also places candidates in other professions like network engineer, security engineer, architect, telecom technician, business/systems analyst, database administrator, enterprise integration, data analytics and insights, and more.
They specialize in placing IT roles within healthcare, finance, government, etc.
Be assured that when you contact TEKsystems for your IT staffing need, you are getting the best-skilled candidates that will suit your company's needs.
GENERAL SCORE: 69%
BRAND RECOGNITION: 94%
REPUTATION: 75%
INFLUENCE & LEADERSHIP: 55%
SITE EXPERIENCE: 44%
You might like: 15 Top Free Career Aptitude Test

5. Modis
Modis is a part of the Adecco Group, the world's leading Human Resource solutions company, and Fortune Global 500 company.
This staffing agency specializes in Information Technology and Engineering professional networks across the globe.
They provide IT solutions for diverse industries, including automotive, energy, manufacturing, hospitality, retail, and management services, alongside traditional staffing for firms.
Modis delivers talent services, information technology, skilling, and digital engineering expertise to bring about digital transformation and speed up inventions.
Modis focuses on offering the following:
Tech Academy
Tech Talent Services
Tech Consulting

They have over 30000 IT professionals serving global clients across over 20 countries.
GENERAL SCORE: 68%
BRAND RECOGNITION: 89%
REPUTATION: 73%
INFLUENCE & LEADERSHIP: 62%
SITE EXPERIENCE:55%
You might like: Best Chicago Recruiting Firms and Staffing Agencies

6. Wunderland Group
Wunderland Group is an award-winning staffing agency founded in 2009 with a mission to take over the market regarding marketing, creatives, digital, and sales enablement services.
This IT staffing agency has experienced professionals with in-depth knowledge of their profession, always ready to provide superior quality of work.
They have expertise in front-end development, digital and traditional marketing, UX design and research, production management, and project and product management.
They provide IT professional staffing services for this and more.
GENERAL SCORE: 45%
BRAND RECOGNITION: 48%
REPUTATION: 60%
INFLUENCE & LEADERSHIP: 42%
SITE EXPERIENCE: 40%

7. 52 Limited
52 limited was founded in 2005, which was initially a creative staffing agency in Portland, Oregon.
It now expands to incude the IT profession as the demand for IT professionals is fast rising.
This company's mission now is to link creative, and IT skilled professionals and offer professional services to industries in San Francisco, Seattle, and Portland.
They have recruiters and team leaders who are knowledgeable and experienced in their profession to give their clients the best candidates that will suit their needs.
They are excellent at providing result-driven IT staffing solutions.
GENERAL SCORE: 40%
BRAND RECOGNITION: 38%
REPUTATION: 65%
INFLUENCE & LEADERSHIP: 42%
SITE EXPERIENCE: 40%
You might like: Best New York Executive Recruiting Firms and Staffing Agencies

8. Epitec
Epitec is one of the leading IT staffing agencies in the US, founded in 1978, with its office located in Atlanta and Detroit.
This agency specializes in customized software solutions, staff augmentation, and vendor management.
They have highly professional internal staff in charge of recruiting to help speed up the hire time and eliminate bad hires across the board.
Epitec offers IT expertise for a wide range of industries, including tech, healthcare, insurance, retail, etc., in the US and worldwide.
This firm has many IT talents that prioritize their employee's and client's satisfaction, making them a perfect option to fill your IT positions.
GENERAL SCORE: 48%
BRAND RECOGNITION: 45%
REPUTATION: 69%
INFLUENCE & LEADERSHIP: 42%
SITE EXPERIENCE: 49%

9. Kforce
Kforce, known as the knowledge force, was founded in 1962 by David Dunkel and Matt Tucker.
This award-winning professional staffing agency in the U.S. are expert in placing professionals in various industries, including finance, accounting, and I.T.
Forbes has consecutively listed them as one of the top 5 search firms across the U.S.
On an annual basis, kforce engages its network of over 30,000 highly-skilled I.T. professionals.
They are part of the few publicly traded staffing agencies with more than 60 offices and two national recruiting centers, which gives opportunities to 4 000 industries across the globe, including 70% of the Fortune 100.
They also have a few international branches.
So far, kforce has successfully placed more than 8 million talented candidates in direct hire and contract jobs for various companies.
They are an ideal I.T. staffing agency to contract when you need the right talent for your next project or company.
GENERAL SCORE: 65%
BRAND RECOGNITION: 81%
REPUTATION: 81%
INFLUENCE & LEADERSHIP: 40%
SITE EXPERIENCE: 51%
You might like: Best Austin Recruiting Firms and Staffing Agencies

10. Edgelink
When seeking for a dedicated IT staffing agency, consider Edgelink.
With offices in Denver, Colorado, and Portland, Oregon, the team concentrates solely on IT staffing solutions for their business partners with a personalized, targeted approach.
Their approach to staffing considers the needs of each client and their industry. They handle both direct hire and contract placements.
With Edgelink, you will receive specialized coaching and assistance from candidates and clients at every project development phase, giving you an edge over the competition.
GENERAL SCORE: 55%
BRAND RECOGNITION: 69
REPUTATION: 50%
INFLUENCE & LEADERSHIP: 43%
SITE EXPERIENCE: 49%

Why Should My Company Use IT Staffing Agencies?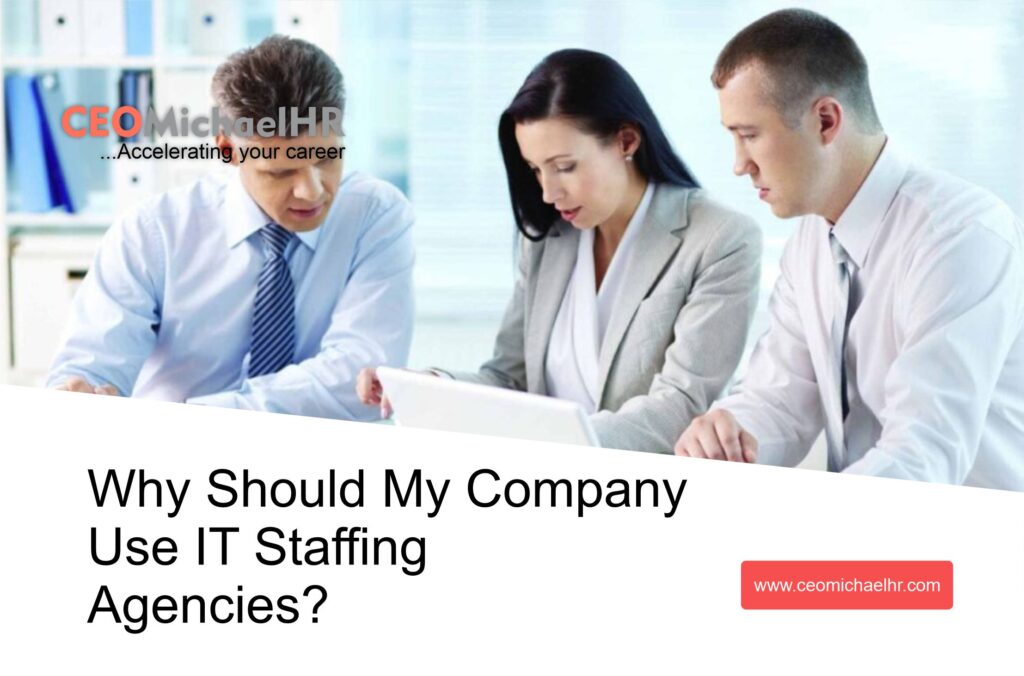 HR Managers can certainly tell how frustrating the process of getting a new talent that will perfectly fit a company's open positions can sometimes be.
Imagine the time spent writing out the company's job requirements for the available positions and displaying them on several job boards.
After all this process, you can only wait and hope that the appropriate applicant locates you.
But how long can the company wait for this prospect to fill these vacant positions?
Each day that passes, the organization loses money and time while functioning with limited staff and still using the extra time to conduct interviews that may or may not result in a productive hire.
In some cases, the company may find the best fit for the position within a set time frame; in others, the search may be fruitless.
The position can be open for a long time, and not even one person fit for the job applies, or you may hire a candidate, and in the end, it turns out to be a bad hire.
Every palmy, growing organization doesn't have that time to go through this process since they can easily get an additional team member.
Contracting IT staffing agencies to get your company suitable candidates will save the organization time and money.
These IT staffing agencies consider the needs of prospective candidates and the company and take time to run relevant background checks, skill evaluations, and testing of applicants.
With all these measures on ground, they tend to find great talent that perfectly fits the company's specifications.
IT staffing agencies can reach out to more applicants than an average employee.
This will help your company's HR department to focus its time and energy on the betterment of the company rather than sharing valuable time in the hiring process that can be time-draining.
The IT staffing agency will ensure you not only get a candidate that fits but the best fit for the role in the company or your next project.
You might like: The Predictive Index Test: (2023) Full Guide

What IT Jobs Are Most In-Demand?
Below are the most in-demand IT jobs that a staffing company can assist with:
Mobile Application Developer

When considering an IT staffing firm, find out if there are any specific areas, they specialize in.
You might like: Unique Answers to "Why Should We Hire You?" for 25+ Positions

How Are IT Staffing Agencies Paid?
Staffing agencies have no fixed order of payment for their services.
IT staffing agencies most commonly will charge by percentage, of which different circumstances determine the fee.
That is to say, staffing agencies consider some factors before billing their clients.
Getting the correct information about payment and negotiating beforehand with any staffing agency you intend to work with is necessary.

What Should I Look for In an IT Staffing Agency?
With many staffing agencies operating worldwide, an estimated 20,000 agencies in the US, and 2,600 specializing in the IT sector, choosing which company to work with can be overwhelming.
While there are many areas to examine, you must consider their success metrics, integrity, and reputation before working or partnering with an IT staffing agency.
Critically ascertain if an agency is successful in helping another organization operate in your niche; they will likely understand what is best for your business.
Consider the following questions:
What is my budget, and how much will I spend in this process?
Is the staffing agency within my reach to enable building a long-term relationship?
What is the agency's history, and how long have they been in business?
What reputable organizations have they worked for, and what is their testimonial?
Do they have a large pool of resumes on file to match you with?
After conducting extensive internet research and providing clear answers to the above questions, you can proceed as required.
Always take quality time vetting any organization you are interested in working with to ensure they meet your organization's hiring needs.

Conclusion
It is no doubt that the processes involved in hiring new talents can be complicated and sometimes costly.
These processes could range from spending extended hours tailoring job descriptions, perusing resumes, conducting interviews, and carrying out background checks.
A Glassdoor study revealed that, on average, US employers would spend $4,000 and 24 days to hire a new employee.
With a bad hire, this process can be done repeatedly.
Moreover, hiring in the IT sector can be daunting as the demand for experienced, capable talent in the IT field is growing much faster than people are entering it.
There is a meager unemployment rate in the IT field. While that can be a great thing for employees, it causes a lot of complications for companies.
Great news!
IT staffing agencies are your best bet.
Want to save time and have your interview-ready resume in just 2-5 days?
Let our CEOMichaelHR certified resume writers take the guesswork out of resume writing by summing up and showing off your metric skills and experience.