Thinking of becoming a Data Analyst in a reputable company? Then the data analyst resume is just what you need to get started. Well, in this post you will learn how to draft your data analyst resume, the skills to put in your resume, the role, and responsibilities of a data analyst.
Before I dive deeper into our main subject of concern which is the data analyst resume, I will like to explain in detail what the job of a data analyst really is.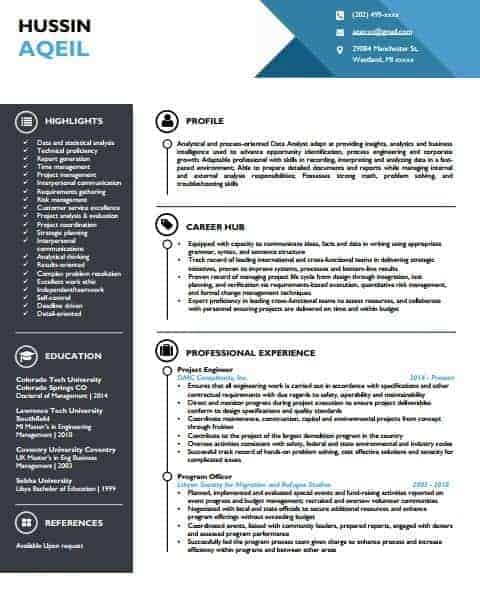 Data as we all know is a raw fact that needs to be processed into information that's useful to form concise and decisive results.
The job of the data analyst is quite simple – he interprets the raw fact and processes it into information i.e he collects data from different sources, analyzes, and interprets them.
A Data Analyst main duty is to give a report from what he got during the comprehensive study of processing the data analyzed into information.
Roles and Responsibilities of A Data Analyst
The main role and responsibility of a data analyst are to give recommendation about measures that can be taken to gather and analyze data which is aimed at improving the quality and performance of the data system of a company or industry.
They also include:
Collects and interpret data
Analyze result gotten from the interpreted data using several statistical techniques
Reports result and give recommendations about measures that can be taken to improve the company's database
Identify, collect, analyze and interpret trends in a data set
Maintain database system
Remove jargons or corrupted data from the database
Data mining from primary and secondary sources

How Do I Write A Data Analyst Resume?
There are certain guidelines guiding resume writing, to write a standard data analyst resume. Use the tips I have provided below:
1. Your contact address
There are a lot of facts you will want to put in your resume and that includes your contact address or contact information.
Your contact information must be kept short and concise as you would want to conserve space for your skills and experience.
Your contact information should include:
Your name
Your phone number
Your email address
Check out the example below:
Micheal Jefferson
555-555-555
Michealjef123@gmail.com
If you own a blog or you would like to add your LinkedIn profile to your resume, please click here
2. Your summary or objective
Your data analyst resume summary should be kept short and precise. It should be one that keeps your employer glued to your resume making him want to know more about you.
It should also highlight your skills, achievement, and work experience. Below is an example of a resume summary for a data analyst with work experience:
With years of experience
A process-oriented and adaptable data analyst with 5+years of experience, skilled in statistical analysis and interpretation of data, research methodology; creative, organized, and timely in providing specific recommendations that will impact organization growth and success.
With no work experience
A certified and aspiring data analyst with a degree in statistics seeks an opportunity to occupy the position of a data analyst in your reputable company, where I can fully utilize my analytical and methodical skills to help improve corporate performance and promote the organization's growth.
Wondering how far back a resume should go for work experience? Here is a perfect post for that.
Recommended read: How to write a CEO resume
3. Data analyst resume skills
The data analyst job is a technical job that tells you are technologically inclined. There are certain skills a data analyst must possess and I have listed a few of them below:
Microsoft Excel
SQL
Regression analysis
Experimental design and analysis
Programming language
Database design and management
Logistic and analysis
Problem-solving and troubleshooting
Risk management
Data and statistical analysis
Project management
Pays attention to details
Excellent communication skills
Critical thinking
Data visualization

4. Data analyst work experience
Always have it at the back of your mind that resumes are written chronologically, and as such, your work experience should be represented in a chronological order starting from your recent work experience to your past work experience.
Check out the format below:
Data Analyst
ABC Retail, Ohio | Jun 2015 – May 2017
Use bullet points to highlight your work experience
Please note that your work experience must be short, precise, and specific. Do not beat around the bush, ensure you use terminologies that are specific to your industry, and filter out irrelevant work experience.
5. Data analyst education or work experience
Your resume should show your employers how you learned your skill. When you are filling out your education section, include the following:
Degree type
University and location
Letʹs check out the format below:
Bachelor of Science in Statistics | 2008 – 2011
Ohio State University, Ohio
Data Analyst Resume Sample
Your name
Your address
Your linkedin url
Your email address
Highlight
Business intelligence
Detail-oriented
Risk management
SQL
Problem-solving & troubleshooting
Data and statistical analysis
Regression analysis
Data visualization
Experimental design and analysis
Collaborative communication
Programming languages
Calm under pressure
Good writing and editing skills

Work Experience
Data Analyst
RMD Consultant Inc. | June 2015-May 2017
Collected, analyzed, and interpreted data from the sales department using several statistical methods
Used SPSS and MiniTab to effectively track and analyze data
Provided recommendations on measures that can be taken to help improve the quality and efficiency of the analyzed data
Data Analyst II
ABC retail, Ohio | Jun 2012 – May 2015
Use python and other programming languages to cleanse and aggregate data
Create an app to track the trend of purchase in the sales department
Worked with other team members in the collection and analyzing of data
Education
Bachelor of Science in Statistics
Ohio State University | May 2008 – 2011
Conclusion
Always remember to be specific and precise, be relevant, and remember to follow the chronological order while drafting your work experience. Have any questions on how to create a data analyst resume? Please chat with us via the comment section.